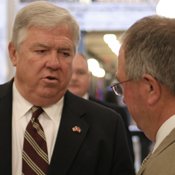 Mississippi Gov. Haley Barbour pinched a nerve in September that's still causing pain for some health-insurance reform advocates. Barbour sent a Sept. 8 letter to Mississippi Republican Sens. Thad Cochran and Roger Wicker warning both that the reform envisioned in Congress that month would raise the state's Medicaid costs.
"In Mississippi, the issue of Medicaid expansion hits close to home, since our state's share of the Medicaid program is currently $707 million, or 12 percent of a $5.87 billion state supported budget, which includes temporary stimulus funds," Barbour wrote.
"Nevertheless, the current proposals, both in the House and Senate, will expand the Medicaid program at additional costs paid not by the federal government, but passed down to the states."
The governor argued that he projects Medicaid expenses for federal and state government combined to reach $523 billion by 2013, a 56 percent increase in just six years.
"Should the reforms being debated in Congress become law, Mississippi would be saddled with an average increase of $360 million in costs, on top of the already $707 million it costs to fund Mississippi's annual state share of the Medicaid program," Barbour wrote, adding that the proposals, which would expand coverage to all Mississippians at 133 percent federal poverty level, will push states to raise income or sales taxes.
Barbour's September numbers, based upon an earlier version of H.R. 3200, are now out of date, considering that the Senate version of health-care reform costs well under the $900 billion set by President Barack Obama, and paints a different picture on the long-term impact on the deficit as H.R. 3200. Also, since September, the House has been working to bring its bill down below that same $900 billion ceiling, so it also does not contribute to the deficit.
Still, many southern policy groups, like the conservative South Carolina Policy Council, forecast other dire consequences, warning that Congress "is looking at slashing Medicare and Medicaid by $313 billion" in order to cut the cost of the insurance reform.
Both Mississippi senators opposed the Baucus bill. Wicker made it clear in an Oct. 19 press statement that he agreed with both Barbour and the SCPC regarding the predicted Medicaid pain of the Senate plan, arguing that "state budgets would ... be negatively impacted by the Medicaid expansion called for in this bill."
Judith Solomon, senior fellow at the Center on Budget and Policy Priorities, agrees with Barbour that state Medicaid costs would increase—but only in part.
"He's not entirely wrong, but when you put it in the context of the status quo, it would be a different outcome. The net costs to states will be $22 billion over 10 years. That's not a small amount of money. It will add to the costs, but it's balanced with the need for action on federal reform to contain costs. We're already paying for these people through higher rates," Solomon said.
Both the House health-care reform bill, H.R. 3200, and the Senate bill defray initial costs to states for Medicaid expansion. The House bill, for example, puts 100 percent of the costs of covering new Medicaid recipients on the federal government until 2015, when states would need to contribute 10 percent of costs. The Senate bill would adjust the Federal Medical Assistance Percentage so that by 2019, all states will receive a FMAP increase of 32.3 percentage points for newly eligible enrollees.
The Kaiser Family Foundation reports that states with higher uninsured rates and lower Medicaid eligibility (typically in the south and west) "are likely to see the largest increases in coverage and new federal revenue."
But health-care reform opponents are leaving out the millions of dollars in savings the reform will mean to the states, according to senior-citizen advocacy group AARP, which represents a large sector of the nation with fixed retirement incomes.
AARP claims that "the majority of the initiatives that would pay for reform will come from cutting waste, fraud and abuse within existing government health programs." Some of that includes ending $177 billion in subsidies to insurance companies in the next 10 years and increasing efficiency through coordinating care and streamlining paperwork by computerizing record-keeping.
The group says the cost of reform more than balances out the skyrocketing predictions of future health-care costs without it.
"We currently spend more than $2 trillion dollars a year on health care," AARP states on its Web site, which also contains letters of disagreement from AARP members opposing the endorsement of reform (and demanding back their AARP dues.)
"Health insurance reform will make a short-term investment of roughly $100 billion a year to lower costs and relieve the crushing financial burden that is eating into family budgets, forcing families into bankruptcy, making it hard for businesses to expand and grow, and preventing the government from using your tax dollars to create jobs, improve education, rebuild our infrastructure. Health insurance reform would be fully paid for over 10 years, and it would not add one penny to the deficit," AARP states.
Both the Senate and House plans contain language creating large insurance exchanges through which private customers and smaller businesses can shop for insurance plans. But both bills do not assume subsidizing everybody who does not currently qualify for Medicaid and putting them into their newly created insurance exchange would be cheaper than expanding Medicaid.
An Oct. 14 New England Journal of Medicine article cites the Congressional Budget Office in explaining that Medicaid costs less despite its coverage for a population that is less healthy than average. CBO calculations for H.R. 3200 estimate, for example, that per capita federal costs in 2019 would be $5,926 for coverage through an exchange, as compared with $1,826 for coverage through a Medicaid expansion. Medicaid, it explains, usually pays providers less than commercial insurers, has lower administrative overhead costs than private insurance companies and contains no profit component.
And though Barbour may condone dodging the potential price increase of health-care reform now, ducking the overall price increase of health care in the future will be more difficult without some form of reform. In 10 years, the number of people without health insurance will increase by more than 30 percent in 29 states, according to a study by Washington D.C.-based think tank The Urban Institute.
"The Cost of Failure to Enact Health Reform" uses three different scenarios: worst case (which assumes 2009 unemployment rates don't improve), an intermediate case and a best case (which assumes unemployment will go back to a reasonably comfortable 5.1 percent of previous years), to measure income growth against health-care cost increases. All scenarios show remarkable economic strain on both individuals and businesses in every state without reform. The report predicts total individual and family sending on premiums and out-of-pocket costs to increase by 68 percent in the worst-case scenario, 59.7 percent in the intermediate-case and 45.9 percent in the best-case scenario.
Those numbers translate into Medicaid cost increases for states, since it is likely that more people will be covered through Medicaid as the number of uninsured grow (as more businesses drop increasingly expensive insurance plans for their employees).
The report predicts a 106 percent increase in Medicaid and CHIP costs by 2019 for the non-elderly population in the worst case scenario, and a 127.8 percent increase in uncompensated care costs (hospital care provided for which no payment was received from the patient or insurer). The best-case scenario predicts a 60.7 percent increase in Medicaid and CHIP expenditures, and a 71.7 percent increase in uncompensated care.
Solomon said Mississippi will likely see Medicaid cost increases, reform or not: "The numbers are fairly clear. In the absence of reform, states will experience growing Medicaid rolls as more people lose their employer-based health insurance. You will get those increases in Medicaid costs without the increase in federal funds, or any increased coverage for Mississippians," she said.
Previous Comments
ID

152900

Comment

It is really telling that the only way Barbour can think to control costs is to deny people health care, apart from that red herring called tort reform. Generally, the people who would be covered by the expansion of Medicaid lack health care insurance now. That is the whole point of the expansion. Barbour would save money by letting those people suffer. You could hardly ask for a better deal for the state than the huge subsidies the federal government is offering. Indeed, Mississippi is a huge beneficiary of federal health care spending--the largest per capita, if I remember right. The Barbour alternative is to let those people rot. Also, considering that Barbour has been caught over and over again fabricating numbers on everything from energy legislation to health care, why would anyone believe a single thing he has to say?

Author

Brian C Johnson

Date

2009-10-28T13:09:19-06:00
ID

152902

Comment

I'm still not buying the $2 trillion in cost cutting, even over 10 years. The last major program the government picked up (Medicaid, if I'm remembering right) was supposed to $3 billion in the first year (1968), and only $12 by 1992. It was costing $170 billion in 92. Even if you factor in inflation and whatnot, these things get out of hand.

Author

Ironghost

Date

2009-10-28T13:19:28-06:00
ID

152903

Comment

What bothers me about Conservatives in general is that they are always trying to convince the average person to fight on the behalf of corporations and the powerful in hopes of some favorable outcome. Individuals should not feel obligated to protect or to keep supporting the insurance industry that has taken advantage of people for years. When you see Conservatives complaining that programs like Medicare/Medicaid are bankrupt and therefore not good models to follow, they forget that they are also victims of escalating healthcare costs. That is like blaming your job because the grocery store wants to charge $10 for a loaf of bread. How in the world have Conservatives been so successful in convincing people that a "public option" or anything that gives them more power in choice is bad? Health insurance is a racket and basically is just a middle man taking money off the top for not doing anything. Why should people be beholding to a situation like that? Conservatives should be telling people that their families are the top priority not maintaining insurance companies. We have basically become conditioned to pay a company for a service which they may or may not provide and for which you still have to pay a deductible before they start paying some percent less than 100. That is nuts.

Author

Goldenae

Date

2009-10-28T13:22:13-06:00
ID

152908

Comment

Ironghost, Medicaid and other programs are subject to the escalating costs. As healthcare costs escalates, so does the cost of these particular programs. That does not mean there is a problem with the program, but a problem in the fact that healthcare cost escalate at a rate much higher than anything else. Where does healthcare demonstrate the basic principles of the free market? Supply and demand only comes in to play when they look for reasons to increase costs, but never decrease. Regardless of the economy, the healthcare industry wants to get paid the same. The problem that most conservatives do not want to admit is that greed corrupts systems. It makes no sense to have a healthcare system based on people getting rich as opposed to people dedicated to healing. Our system is skewed. I would make rather have the government involved that is not concerned about making a profit than all sorts of middle men that are involved in the process just to make a buck. The insurance industry is concerned with making money, not providing healthcare. They know that people have to accept whatever they are given.

Author

Goldenae

Date

2009-10-28T13:32:03-06:00
More like this story