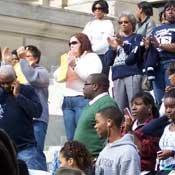 Gov. Haley Barbour's proposal to merge some state universities continues to draw ire. On Nov. 20, students rallied at Jackson State University to protest Barbour's suggestion that the state's other two historically black universities, Alcorn State and Mississippi Valley State, be merged into JSU.
"We are not going to let our school close without some kind of fight," said Alcorn State student Tamia Parker. "He says he's leaving the campus open, but it won't be the same campus anymore. All the good classes might be somewhere else. It won't even be called Alcorn anymore. But Ole Miss is just fine. Why is that?"
In his Nov. 16 budget recommendation, Barbour called for the HBCU consolidation and for the merger of the Mississippi University for Women into Mississippi State University. The moves could save the state administrative costs, Barbour said, predicting $35 million in savings for the 2012 fiscal year. At the rally, supporters of the state's HBCUs argued that the governor has ignored the significant political costs of such a move.
JSU student Trey Harris, 19, was incredulous. "What was he thinking?" Harris asked. "That's what I keep asking myself, because did he really think that we would just take this suggestion and go with it? Was he really thinking that?"
JSU freshman Victoria Stafford worried about the effect of a merger on the distinct and proud networks of alumni for each historically black university. "This is about having pride in your school," Stafford said. "It'll knock down the pride of the alumni. If you put them all under one roof we won't have that friendly rivalry anymore."
Barbour argues that every part of the state budget must suffer its fair share of cuts in times of economic duress. Many merger opponents point out, however, that $35 million is a paltry sum to save, considering that Barbour estimates a budget shortfall of over $500 million for 2012 alone. The potential savings of consolidation are limited by the fact that only 12 percent of the state's spending on higher education goes to administration. Instruction and other classroom-related costs take up far more of the budget and are an even less popular target for cuts than administration.
The limited savings offered by consolidation are too small to justify such a drastic step, argued Rep. Kelvin Buck, D-Holly Springs. "We shouldn't make long-term policy on some major educational matter based on some really extraordinary economic times that are at the bottom of the pit," Buck said. "We won't always be like this, and we shouldn't make policy that would be long-ranging that would reflect this time as opposed to what normalization would be for us."
Buck's opinion carries extra weight in the Legislature, as he chairs the House Universities and Colleges Committee, which would have to approve the measure before its consideration by the full chamber. If Buck has his way, a merger proposal will stop with his committee.
"I won't support any bill that comes out that would be designed to consolidate any universities," Buck told the Jackson Free Press. "It's not my plan to even entertain it, to be honest with you. I just don't think it's the right way to go. I think we need to go back to the drawing board."
Buck's colleague, Sen. Hillman Frazier, D-Jackson, also doubted that a merger bill would survive opposition in the Legislature.
"Legislators can count, and it's about two years from election time, so they don't want to do anything that would irritate a lot of their constituents," said Frazier, who is a member of the Senate Universities and Colleges Committee. "I think it would be very difficult for (a consolidation bill) to pass out of committee, even in the Senate. I don't think that dog is going to hunt in the Senate. We're going to have to look at other ways of developing this budget other than on the backs of our students."
Rep. Cecil Brown, D-Jackson, questioned Barbour's logic in recommending that Mississippi Valley State merge with Jackson State, despite the two schools' different missions and different salary schedules. Delta State University is much closer to MVSU's Itta Bena campus, Brown noted.
"I understand the racial politics of putting it with Jackson State, but if what you're really thinking about is efficiencies in the budget, why wouldn't you at least argue (for merging it with Delta State)?" Brown said.
For Gus McCoy, president of the NAACP's Jackson chapter, Barbour's proposal reminded him of former Gov. Kirk Fordice, also a Republican.
"This isn't the first time they've tried to consolidate the HBCUs," McCoy said. "Remember Fordice talked about it, too. They keep coming back to the same old push, showing us time and time again that they don't have any good ideas."
McCoy noted that Barbour's incendiary proposal has had one positive effect: "What Barbour's done is mobilize our community. He's convinced us to go to our local leaders and go to our legislators. He's convinced us to go to our counties and our municipalities and our legislators to tell them what we want our economy to look like. This is something we haven't been doing.
More like this story
More stories by this author