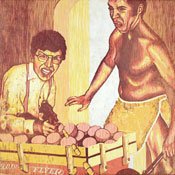 Ben Rinehart engineers paper. He folds simple, familiar forms like hand-operated fortune tellers kids made in third grade. He creates modern folk art in the shape of pop-up books and three-dimensional blocks. The pieces are mainstream American artifacts.
But something deeper lurks. Questions about sexual identity and family relations pop out everywhere in Rinehart's exhibit, "Accepted," showing at the Lewis Art Gallery at Millsaps College through Dec. 2.
Rinehart is a man who has found acceptance. He grew up in Indiana and now teaches art at Lawrence University in Wisconsin. He is raising a family with his male partner.
"I hate the term partner," he said. "It sounds like a cowboy."
Rinehart stood comfortably with his feet wide apart and his hands inside his black jeans pockets speaking to Millsaps art students last month. His bright pink-purple sweater made his blue eyes light up as he talked about creating handcrafted books and making woodcut prints.
"I am a planner and a problem solver," he said.
He's also an artist who challenges assumptions. The origami of the childlike fortune teller first poses the question, "Is he a girl?" The opened paper reveals the question, "Is she a boy?" Next, the inside folds out demanding, "Who decides?"
When Rinehart didn't cut his toddler's hair for his first 18 months of life, people called the baby a girl. "People seem so pent up on gender roles and around colors—pink for girls, blue for boys," he said.
His philosophy as an artist has grown and evolved over the years. The name he gave this exhibit—"Accepted"—sums up his universal observation of what all people desire. At the beginning of his career, his primary identity was as a gay man. Now that he's 37, with a 4-month-old and a 3-year-old, his identity is that of a father.
"My private life has become very public and not just in my art. It's about letting people know how normal my life is," he said. "I'm somewhat private, a little guarded."
Many of Rinehart's images have a touch of discomfort.
The slightly disturbing "Early Morning Rise" shows a dad waking up his son in an everyday, modern ranch house. In this movable reductive woodcut print, the dad with a creepy smile has a forearm that really bends at the elbow. The blinds in the window actually pull up. This cleverness almost overshadows the father's exposed privates.
Sandra Murchison, an art professor at Millsaps, went to graduate school with Rinehart at Louisiana State University. That relationship led to the current exhibit. Murchison said Rinehart's work is all about his relationships. His sister, his mother, his father, his son are all subjects in his art.
One of his oil paintings, "Lahoma," is a portrait of his older sister. She sits with her robe open, exposing her breasts (she didn't pose like this). In the background is a large, faint image of a hairbrush, the hairbrush she used to threaten him when he didn't behave.
"Art is the best form of therapy," he said. "I don't see this as a negative image. Maybe it's not flattering."
Using imagery of his family doesn't alter how Rinehart sees the world. He doesn't mind if people find his work disturbing. He wants to force interaction and provoke a response, positive or negative.
"If I have to push a few buttons along the way, I'm OK with that," Rinehart says.
He doesn't preach acceptance and has no desire to stand on a pulpit. He believes his job is to guide viewers.
"I use candy-like colors, light and airy, even when the subject matter is sad," he said. "Memories are very subjective, fuzzy and muted."
He crocheted the pages of his single-copy handcrafted book "Comforts of Home." It's sweet with images of children at bedtime stenciled on top of the crochet work. It's creepy with images of adult figures lurking in the doorway.
The handcrafted board book, "Corrupt," is constructed like a baby book built for wear and tear and teething. Inside are images such as a baby with a beer bottle. Rinehart says it comes from the question of who we let corrupt our children.
"Fragmented Relationships" is broken into six rotating cubes. "Three Little Pests" captures a moment of parental irritation with children. The woodcut, "Happy Pill," depicts a red Radio Flyer wagon, one of the big ones, full of oversized anti-depressants.
"All my work is narrative," he says. "My work can be something as simple as a raffle ticket."
Rinehart also creates his own reductive woodcut prints. He uses the same piece of wood to produce every color layer in his four-run print process. In one piece, he starts with yellow, moves to orange, then adds red and ends with brown. His method is called suicide printing, a process that allows only one color to be used at a time.
"I'm sort of selfish. I can make more than one. I'm drawn to the idea of making multiples," he said.
His work tends to be small in size, portable and intimate. It also has a fragile quality. Although much of it is movable and hand-operated, it's also hands-off. While most of the work hanging in the exhibit is original, several of his handmade books are presented with photographs. This way, more pages of the books can be shown. Rinehart said if actual pieces were displayed, they would be under a glass cabinet with only one view available. One can't get too close because of the fragility.
He created another book, one you can touch and handle and review. Barnes and Nobles publishes his how-to craft guide "Creating Books and Boxes" (2007, $24.99). The bookstore chain bundled copies with boxes of materials to engineer clever creations.
Just add your own scenes questioning modern family life.
"Ben Rinehart: Accepted," continues at the Lewis Art Gallery at Millsaps College through Dec. 2. For more information, call 601-947-1451.
More like this story
More stories by this author