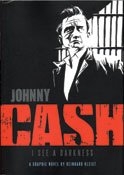 If you are a fan of Johnny Cash, or are curious about the nature of the iconic "Man in Black," you owe it to yourself to make time to read "Johnny Cash: I See A Darkness" (Abrams Publishing, 2009, $17.95). Written and illustrated by Reinhard Kleist, this graphic novel takes you from Cash's humble beginnings in Tennessee to the famous concert at Folsom Prison in 1968 at the pinnacle of his career, with the ups-and-downs from point A to point B included.
The book opens with a blast of imagery, illustrating a line from "Folsom Prison Blues": "I shot a man in Reno just to watch him die." No lyrics from the song are evident, but there is no mistaking Kleist's intention. He repeats this trick throughout the novel, casting Cash as the characters in his songs, punctuating the singer's outsider stance in the music business and polemical relationship with the world at large.
The narrative of the book is framed by Folsom prisoner Glen Sherley's anticipation upon hearing the news that Johnny Cash will be performing at the prison. Sherley is a musician himself who idolizes Cash for his understanding of the plight of the common and downtrodden individual. Sherley records a demo that he intends to get to Cash, entrusting the prison's chaplain to help him. Sherley's anxiety is palpable, and it drives the story as much as the main character.
Although Sherley's story is fictionalized, it's based on truth. You can actually hear Johnny Cash call him by name on the album "Live At Folsom Prison." Like the visual interpretations of the songs, the prisoner's anxious wait for the day of the concert is woven into the heart of the story.
We meet the Cash family in 1935, as they move to Arkansas as part of Roosevelt's New Deal to farm cotton. It's in these early days that young Johnny, then known as J.R., develops an affinity for music and aspires to something bigger than cotton farming. In his youth Cash idolized his older brother Jack, who died an untimely death at the age of 14. After this event, the family held together with Johnny filling his brother's absence with music. But it wasn't long before his dreams took him to the boredom of a Detroit automotive production line, and then to the lure of military service and a chance to see the world.
Upon his return from service, Cash and his new wife, Vivian, settled in Memphis. He worked as a door-to-door salesman while pursuing his musical career on the side. Grabbing the attention of the legendary Sam Phillips, who discovered Elvis Presley, Cash's life takes an upswing as he embarks on a life of constant touring, partying and indulgence. As his career takes off, his personal relationships crumble until he realizes he has sunk as far as he can. With the help of family and music partner June Carter, who saw the best and worst of Cash, he begins to put his life back together.
The climactic account of the concert at Folsom Prison delivers all the resolution a reader could want. I recommend you hear the record to get the full impact of a concert played in what was the worst prison in America at the time. You will have a better understanding of the book's imagery for it. This was tension and release for both the musicians, but much more so for the inmates. This is particularly true for prisoner Sherley, who meets his hero in a larger-than-life moment and finds the redemption he craves.
The book ends with an epilogue of an elder Johnny Cash, reflective and wiser, recording some of his last material with producer Rick Rubin. Here you'll learn Sherley's eventual fate and get a glimpse of a part of American legend shortly before his passing. Bittersweet, indeed.
Kleist's graphic novel does more than just hit the highlights of an infamous man with an illustrious career. Peppering the story with his take on some instantly recognizable images of the singer, the work is loose and consistently moves you through the pages, panel to panel, with a fluidity that only the best comics achieve. As a bonus, he has included a gallery of more traditionally styled portraits of his subject. Kleist has received several comic-related awards in his native Germany for "Johnny Cash: I See A Darkness," and I look forward to more of his work in the future.
What's On My Nightstand?
"23 Hours," David Wellington (Three Rivers Press, 2009, $13.99) A vampire showdown behind bars from an author who thankfully doesn't find bloodsuckers romantic at all.
"The Rise of the Fourth Reich," Jim Marrs (Harper Collins, 2009, $14.99) Is it a conspiracy theory, or is it the truth? Either way, this book is an interesting assertion that the Nazis never really went away. They just learned to hide behind corporate respectability all over the globe.
"Evil: The Shadow Side of Reality," John A. Sanford (Crossroads Publishing, 1982, $9.95) A philosophical look at the problems and causes of evil in human society. "Smonk," Tom Franklin (Harper Perennial, 2007, $13.95) This book is billed as a "Southern" as opposed to a "Western." It is full of bizarre characters, crazed rabies victims and the oddest, least sympathetic antagonist in recent memory.
"The Invisible Man," H.G. Wells (Aerie Publishing, 1992, $4.99) Who wants to be invisible for a while? Everyone. Who would want it to be permanent? Not so many.
"Martian Time Slip," Phillip K. Dick (Vintage Publishing, 1995, $13.95) Phillip K. Dick can be a hard read at times, but not here. Years ahead of "The Matrix," Dick offered this rumination on the nature of reality, and one's place in the grand scheme of things. It is one of his more accessible works.
Previous Comments
ID

153247

Comment

I'm not a country music fan, especially that of old country, but I have been a fan of Johnny Cash for many, many years. I think others would be pleasantly to wildly surprised at Cash's outlook on life and the true deep meaning of his songs - I've often referred to him as the greatest liberal since Jesus.

Author

jamesparker

Date

2009-11-11T09:52:12-06:00
More like this story
More stories by this author