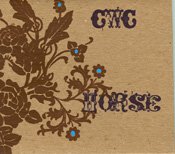 It's a little strange to peruse the music listings each week and not see Goodman County playing somewhere. For the last several years, the band has been as integral to Jackson as Stamps burgers and George Street Grocery. But Stamps is now joined by Cool Al's, and George Street is now called "The Tavern," and in keeping with the changing times, Goodman County played their last show at The Tavern earlier in 2009.
When a band breaks up, the music never really stops—it just takes on a different form. Goodman County expatriates Cody Cox, Barry Shannon and Tony Abercrombie have joined with Tyler Kemp, of Jonezetta, to become Furrows, and the band is currently recording and touring a bit. In the midst of all this upheaval, Cox has released a solo effort, "Horse," adding his middle name "Wynne" on the byline for distinction. Those familiar with Cox's earlier side project, "Bent Branches," will recognize and appreciate the unique album packaging and artwork featuring, of course, a horse on the cover.
"Horse" follows in the alt-country footsteps of Goodman County, taking a turn into the wilderness to unearth some true cowboy music. Cox delivers honest, matter-of-fact vocals and lyrics that are thought-provoking but not pretentious. By far my favorite song is the fatalistic "Writers Never Win (and winners never write)," with the chorus: "I'll be a matchstick man/to your gasoline girl/and we'll row together on this lake of fire/with just a spoon for an oar." The horn toward the end comes in at just the right time, injecting emotion and driving the point home.
Four bits of spoken word are scattered throughout this album, which gives the album more depth. These bits of poetry, recited over a hazy guitar soundtrack, probably did not belong on a Goodman County album, but they make a little more sense on "Horse." Cox shows off his artistic prowess here, and shows he is not afraid to lay it all out on the line.
Cox emulates "Being There"-era Wilco on "The Mixture," Jack White on "Bad News" and "Disaster," and a little bit of Beck on "How I Put That Monkey to Sleep." All the songs are very much in the vein of alt-country, but a slightly different attitude exists in each one. "Horse" shows that there is more to the genre than being a twangy-er cousin to rock 'n' roll.
More like this story
More stories by this author