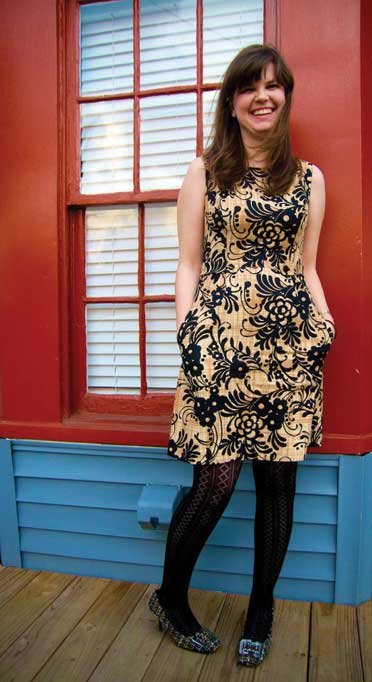 If you're a member of the Jackson Progressives, a pharmacy student at the University of Mississippi Medical Center, or you recently saw The Vagina Monologues at Rainbow Co-op, you're probably familiar with a cheery, thick-banged pharmacist named Katie McClendon.
Although McClendon now calls Jackson "home," the Guntersville, Ala., native has done her fair share of relocation. McClendon and her family moved from Alabama to the Dallas-Fort Worth, Texas, area in 1990. Four years later, they moved to Kansas City, Kan., for a year and a half, then moved to the San Francisco Bay area where McClendon graduated from high school in 1999. McClendon then attended the University of South Carolina Pharmacy School for six years and graduated in 2005 with a doctor of pharmacy degree. Following pharmacy school, she did her residency in St. Louis, Mo., and came to Jackson in July 2006.
"I wanted a job where I would work 40 hours a week and then do what I was really passionate about outside of work," she says about her early career ideas. "But I am passionate about what I do at work. I love the patients that I serve; I love seeing indigent population patients and making a difference. I'm happy about what I do at work, but I also have free time to do things like 'The Vagina Monologues' and Jackson Progressives."
Behind McClendon's thin-rimmed blue glasses, her eyes light up as she talks about her love for Jackson.
"There were things that I saw that made me want to move here," she says. "JFP was one of them, Treehouse and some of the other boutiques and Fondren as a whole—(and) the fried chicken at Julep."
McClendon works as a clinical pharmacist and clinical assistant professor at UMMC. She specializes in diabetes, cholesterol and anti-coagulation clinics at the Jackson Medical Mall, helps students with problem-based learning, and organizes classes for pharmacy students who are on clinical rotation—all at the age of 27.
"Some of my students are older than me," McClendon says, laughing.
Aside from her work at UMMC, McClendon is a "die-hard SEC football fan." She's naturally a South Carolina Gamecock, but says she'll settle for Ole Miss considering her faculty discount. She says she almost always wears a sweater, is a fan of indie films and gets giddy at the first plant life of the new year.
Despite McClendon's history of frequent moves, she says she's perfectly content with where she is. "I'm really happy for now," she says. "I bought my house, and I don't really want to pick it up and move it anytime soon. I'll probably be in Jackson for a while."
Previous Comments
ID

144338

Comment

Katie's a good friend of mine and definitely a cool chick. I think "die-hard SEC football fan" is an understatement though! ;)

Author

andi

Date

2009-03-04T17:38:25-06:00
ID

144340

Comment

A die-hard SEC football fan?!?! My kind of woman!

Author

golden eagle

Date

2009-03-04T18:30:10-06:00
ID

144360

Comment

Having met and worked with Katie in JxnPro, I must say that I am thrilled to see that she's been featured here. She's a quietly fiesty woman. Love her! Kudos, Katie.

Author

Queen601

Date

2009-03-05T11:36:50-06:00
ID

144383

Comment

She is a pretty cool sister, too.

Author

littlemc

Date

2009-03-05T14:13:35-06:00
ID

144407

Comment

I've run into Katie a couple of times, but I didn't really know her. She's remarkable!

Author

LatashaWillis

Date

2009-03-06T09:28:56-06:00
More like this story
More stories by this author
Like independent media outlets around the world, the Jackson Free Press works hard to produce important content on a limited budget. We'd love your help! Become a JFP VIP member today and/or donate to our journalism fund. Thanks for considering a JFP VIP membership or one-time support.