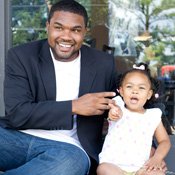 The thing we like most about Jackson's men is that they've got so much soul. You kind of need it when you live in the city with soul. The men on the following pages are soulful in different ways: musically, artistically, spiritually. What they share, however, is the ability to inspire a city and its people by providing an example of what it means to invest in yourself and the community around you. Read the profiles below, and thank the men in your life for their part in making Jackson cool, savvy and forward-thinking. And for being so darn lovable.
Chris Myers
Janine Jankovitz
While he was a student at Mississippi State University, Chris Myers came to Jackson for his fifth year of the architecture program in 2000. When Myers graduated in 2001, he made Jackson his home.
"I love being in Jackson because here the smallest moves can mean a lot; you can make a difference," he says.
As an architect with Cooke Douglass Farr Lemons Architects and Engineers in Fondren, Myers has worked on several local projects, such as the Mississippi Department of Information Technology Services Building and the Trustmark National Bank on Highland Colony Parkway. He also works on military architecture, specifically at Fort Campbell in Kentucky and Fort Stewart in Georgia.
"You get to see what you do," Myers says of being an architect. "It's a sense of accomplishment."
A native of Batesville, Myers is dedicated to his home state. At 31, Myers has become an active member of the community, involving himself with the Crossroads Film Society and capturing events around Jackson behind his camera lens.
Also a skilled photographer, Myers exhibited his work at One Blu Wall gallery this year. His exhibit was a collection of photographs from where Myers' grandmother grew up outside of Crowder, Miss. The exhibit captured images of her property, and Myers even used wood from her house to build the photo frames.
"Most of my photography is of dilapidation; rusted metal, rotted wood," Myers says. "I try to document the effects of time on surfaces and buildings."
Although he will soon move to Dallas, Myers is currently working on a project to capture Jackson's dilapidation, finding beauty in "cracked plaster and old wooden beams" in the buildings around downtown Jackson.
"There are a lot of things that have fallen by the wayside in Jackson," He says. "I think a lot of it is really beautiful."
Phillip Rollins
Lauren Ashley Lawrence
Dressed in a gray T-shirt with the message "I spin vinyl" across the front, 24-year-old Phillip Rollins—better known as DJ Young Venom—is nothing like his name implies.
A Ridgeland native, Rollins says he gained his "soul card" from his mother who unintentionally introduced him to soul music at a young age. He recalls looking through his mother's entertainment console one day and discovering Chaka Khan's "I Feel For You" CD. Today, Rollins has every Chaka Khan and Rufus album to date. Although hip-hop music was practically banned from his household—his mother disliked the genre—Rollins could not stay away from a hip-hop influence.
It was Rollins' godparents who exposed him to samples from the late rappers Tupac Shakur and the Notorious B.I.G. In high school, Rollins started listening and learning from the likes of DJ Whoo Kid, DJ Break and DJ Green Lantern.
Rollins had his first gig at a function for the Mississippi School for the Deaf and Blind, which "was a very surreal experience," he says. Since then, Rollins has spun for various clubs, artists and events throughout the South such as Jackson's Jubilee! JAM in 2007 and 2008.
Rollins is also a club promoter, talk/radio personality on Hot 97.7's "The Soul of the Capitol" Sunday afternoon show, and a production assistant for 16 WAPT News.
"It's such an over-saturated market … you have to be versatile," Rollins says.
With so many accomplishments, Rollins remains the down-to-earth, "nerdy" guy he has always been. "In high school, I was always the guy reading comic books and drawing with headphones on," he says. And with a son on the way, Rollins plans to continue his boyish behavior.
"I (still) play video games every day, read comic books, and I collect action figures. ... And I plan to pass those along to my son," he says proudly.
Elbert McGowan
Lynda Hasberry
While working as a mechanical engineer for General Electric in Cincinnati, Ohio, 30-year-old Elbert McGowan, a devout Presbyterian, began to analyze the ways in which he saw the word of God bring those close to him out of situations that they once thought were hopeless. Because of his personal experiences he decided that sharing his faith with other young adults was his true mission in life.
"I wanted to be a shepherd to other students," says McGowan, a Jackson native who earned his Masters of Divinity at Reformed Theological Seminary in 2008.
Faced with the decision of either church planning in West Jackson or becoming involved with Reformed University Fellowship, McGowan chose the latter. Associated with more than 100 campuses, Jackson State University has the distinction of being the first RUF ministry on a historically black campus and has grown from 10 students in 2007 to nearly 120.
With the support of administration and the student body, McGowan has been able to move the program forward. "Many students seem open to learning more about the programs RUF has to offer," he says.
As minister of the JSU division, McGowan prepares large worship services along with smaller Bible study groups. He also personally counsels those in need of spiritual advice and guidance.
Although he stays busy with the organization, McGowan cherishes time with his family. He and wife, Karen, have a 2-year-old daughter, Karis, and a baby boy on the way. "Children should be able to see God in their parents, when we love children they see the love of God."
Tye Densford
Lynda Hasberry
The smells of char-grilled burgers, Cajun crawfish fettuccine and sizzling ribeye steaks intrigue the senses as I walk down North Congress Street in downtown Jackson. The aromas grow stronger in Tye's Restaurant and Bar, where a wait staffer warmly greets me and I meet owner Tye Densford.
Born in Jackson, Densford grew up in Jacksonville, Fla., then returned to the Magnolia State to attend Mississippi State University. Under the guidance of fellow restaurateur and Louisiana native Joe Brusard, Densford began to hone his craft. Although Densford says he doesn't have formal culinary training, he did learn many skills from "the school of hard knocks."
In 2002, Densford opened his first restaurant, Portabella's Italian Eatery in Byram. After six years, 31-year old Densford and his wife, Audrey Sevelle, began to envision a place that served Cajun dishes and where, "people can come in and eat fast during the day, but experience a full dining experience at night." Thus Tye's Restaurant and Bar was created. Densford opened the restaurant in 2008 in downtown Jackson, hoping to continue revitalization in the area.
With classic red and black décor, Tye's is spacious and unassuming, and has the feel of an elegant 1920s cigar room. A contemporary menu boasts numerous wines and entrees, including its bestseller, blackened redfish. As a chef and restaurant owner, Densford wishes anyone wanting to follow in his footsteps good luck, but says his greatest job is that of father to his three daughters.
"I want all dads to know that I respect them, and I know what they go through," Densford says. "Especially having little girls!"
Melvin Davis
Ward Schaefer
If barbecued meat is the measure of a man, then Melvin Davis is one heck of a guy. At Lumpkin's, the restaurant that Davis owns and operates with his wife Monique, Davis oversees a 1,000-pound capacity computerized smoker—a fancy gadget that, in 12 hours, produces some of the best beef brisket you'll find in Jackson.
"If you start with good raw materials, you're already ahead of the game," Davis says. A barbecue purist, Davis lets his customers apply their own sauce. "We try to put the emphasis on what matters most—the preparation of the meat."
A Washington, D.C., native, Davis spent 20 years working for Verizon Wireless, handling high-end circuits for clients as illustrious as the Clinton White House. In 2007, he took an early retirement and moved to Jackson, where his mother grew up.
Davis, 46, and his wife work hard to make Lumpkin's a force in the community. They host a blues open-mic event on Tuesday nights and welcome guest speakers and musical performances. Art by local dentist-turned-photographer Lorrie Anderson hangs on Lumpkin's walls, and Monique teaches bellydancing classes there twice a week.
Davis also tries to find time for Phenom, a mentoring program for young men run by Word and Worship Church. That's in addition to raising his five sons and one daughter. On weekends, the family treks to Hazlehurst, where Davis' grandfather left him a 39-acre farm. Davis hopes to get organic certification for the farm, with the goal of using his own produce to stock Lumpkin's expansive buffet.
One side of Davis' life does suffer from his dedication to the restaurant, he'll admit. His 1964 Pontiac GTO convertible has been neglected since he moved to Jackson.
"The restaurant ate the car's money," he says with a laugh.
Chris Timmins
Ronni Mott
A fellow teacher at Butterfly Yoga, Dallas native Chris Timmins, 39, encourages students with dry humor and love of the practice even when it's hard, which is most of the time for many of us.
Timmins watched his mom practice yoga as a kid, so it was a natural option for him. "I knew yoga offered something spiritual, physical and also mental," he says, although he wasn't sure what it really entailed. A recovering addict, Timmins says yoga plays a big part in his staying sober, opening him up spiritually.
Timmins teaches yoga in Jackson to give back to the community where he found sobriety five years ago. He teaches classes at recovery centers and various other locations around town. He has also started a 12-step yoga class at Butterfly, in addition to teaching regular yoga classes daily.
Yoga poses are one of the eight "limbs" of a complete yoga practice, which, for serious practitioners, includes study, meditation and guidelines for living an ethical life. Yoga centers on celebrating the divine, allowing grace to suffuse all of life. It doesn't, however, provide a definition of what divine grace means, allowing people of all faiths to practice. "What is your definition of grace?" Chris asks. "That's for you to decide, for you to understand in your life. It's not for me to tell you what grace is."
Timmins is one of just a few male yoga teachers in Jackson.
"Guys have no concept of what yoga is," he says. "They have no idea that it's that challenging." The men that stick with it, though, gain a real appreciation for it, including that it's frequently humbling.
At his own first class, Timmins says he was stiff, out of shape and feeling the effects of "living a toxic life." But leaving class he felt great, and that kept him coming back. "The potential of (experiencing) our own divine nature is here, in this moment," Timmins says. "It's not out there, not away from us."
Devereaux Galloway
Jessica Simien
At 39 years old, Devereaux Galloway is the CEO of a multi-million-dollar energy company, Solar Power of Mississippi. Originally from Jackson, Galloway graduated from Jackson State University with a bachelor's degree in psychology after being enrolled in the undergraduate program for about eight years.
"In college I was looking for the easy way out. I went to college because I was told I had to," Galloway says.
Just before graduating from JSU, Galloway received a basketball scholarship to attend Texas Christian University, which led him to play professional basketball in Italy with the European Basketball League.
In 1989, Galloway returned to the U.S., where he worked several different jobs. He soon became frustrated with the high cost of energy, so he began looking for alternative sources for powering his home.
"There were no companies in Mississippi that could offer me alternative energy sources, so I started it here," Galloway says.
Today, Solar Power of Mississippi is the only minority solar power business in Mississippi. Having no background in solar power, Galloway describes himself as the "Barack Obama kind of guy."
"I surround myself with people who know what they're doing, and that's what entrepreneurship is all about—putting a team together," he says.
In addition to operating his company, Galloway writes coursework for Hinds Community College. He is married with four children and is active in the community through his membership in the Masonic family.
Galloway also has an unusual perspective on the economy: "The worse the economy, the better for the entrepreneur; you begin to think outside of the box. All you need is one person to support you and tell you that you can do it," he says.