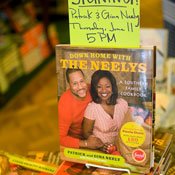 "Down Home with the Neelys: A Southern Family Cookbook" (Knopf, 2009, $27.95) is more than just a book filled with recipes. Pat and Gina Neely share family photos and personal stories throughout the book, including how they met and the history of their family barbeque restaurant, Neely's Bar-B-Que. With candid details and heartwarming anecdotes, the love that they have for each other and their family shines through.
But with more than 120 recipes, make no mistake: This is a cookbook. It includes staple recipes like chicken stock and brown flour gravy. Yet, they've also included out-of-the-box recipes like grilled Gorgonzola toast with sweet peppers. With recipes for appetizers, soups, salads, side dishes, entrees, sandwiches, deserts, breakfast and libations, this cookbook is well-rounded and suitable for home chefs of varying skills.
The Neelys have also included many tips and notations about ingredients and preparation techniques. In true family-style cooking tradition, there is a section of grilling tips from Pat's brother Tony. And we can't forget Neelys signature dishes like Gina's Collard Greens and barbeque spaghetti.
I tried my hand at a sampling of their recipes, and my family wasn't disappointed. I used the Neely's Barbeque seasoning for steaks on the grill. The blend of three spices gave the meat a flavorful taste that I hadn't been able to achieve with wet marinades I'd used in the past. The flavor really stuck to the meat and was infused into every bite.
The recipe that received the most compliments was the Neely's recipe for Spicy Fried Chicken. When I made it for my family, my sister sent me a text praising me for the chicken, and my husband asked that I put the chicken into our regular rotation of meals. The chicken was moist and tender, with flavorful seasoning and a crispy outside due to the use of buttermilk and flour.
So my apron is off to the Neelys. Thank you for bringing your kitchen into my home.
Signed copies of "Down Home With the Neelys" are available at Lemuria. Also, be sure to check-out my interview with the Neelys.
More like this story
More stories by this author