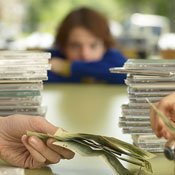 In these tough financial times, cash doesn't necessarily flow like it used to. Many of us are cutting back on our "entertainment" funds to pay bills. But don't fret; the Jackson metro offers a GOOD solution: Gather up your unwanted books, CDs and DVDs, video games, musical instruments, sports gear, comic books, baseball cards—even those old Pokemon cards your girlfriend doesn't know about—and visit some of these local businesses. If your items are in good condition, these stores might make you an offer you can't refuse.
Comics
Action Island (579 Highway 51, Suite D, Ridgeland, 601-856-1789)
• What You Get: In-store credit or cash
• What You Give: Comic books, graphic novels
• Bonus: Collectibles and other odds 'n' ends for sale
Other Resources: Van's Comics and Cards (558 Highway 51, Ridgeland, 601-898-9950)
Music (Instruments)
Fondren Guitars by Patrick Harkins (607 Fondren Place, 601-362-0313)
• What You Get: In-store credit or cash
• What You Give: Guitars, keyboards and sound gear
• Bonus: Consignment service and weekly 30-minute guitar lessons available.
Other Resources: Allegrezza Piano Co. (608 Highway 51, Ridgeland, 601-856-2524); Brother Jay's Guitar Shoppe (206 W. Jackson St., Ridgeland, 601-605-9488); Church Organ Center (1220 Thigpen Road, Raymond, 601-857-8361); Guitar Center (1189 E. County Line Road, Suite 4, 601-956-8053); Lakeland Music (5200 Lakeland Drive, Flowood, 601-992-0089); Lipking's Music (280 W. Government St., Brandon, 601-591-1441); Mississippi Music Inc. (1001 Sara Lane, Flowood, 601-922-1200); Morrison Brothers Music (127 Dyess Road, Ridgeland, 601-956-0135)
Music (CDs and tapes)
Be-Bop Record Shop (3887 Metro Drive, 601-969-3181 and 1220 E. Northside Drive, 601-981-5000)
• What You Get: In-store credit or cash
• What You Give: CDs
Other Resources: The Little Big Store (201 E. Main St., Raymond, 601-857-8579)
Sports/Fitness Equipment
Play it Again Sports (6380D Ridgewood Court, 601-956-5500)
• What You Get: In-store credit or cash
• What You Give: Sports and fitness equipment
• Bonus: Trade kids' sports equipment for bigger sizes (mainly helmets, gloves, bats and other durable gear). Consignment service available.
Books
The Book Rack (1491 Canton Mart Road, Suite 7, 601-956-5086)
• What You Get: In-store credit
• What You Give: Used books
Other Resources: Book Rack Brandon (118 Service Drive, Brandon, 601-824-1223); Book Rack Clinton (584C Springridge Road, Clinton, 601-924-9020); The Bookshelf (637 Highway 51 S., Suite 8A, Ridgeland, 601-853-9225); Tattered Pages (719 N. Congress St., 601-352-3399)
Video Games
Game Stop (multiple locations)
• What You Get: In-store credit or cash
• What You Video games and consoles (no regular Xbox games, Playstation 1 games or anything comparably old)
DVDS
Super Video Center (1372 W. McDowell Road, 601-372-6001)
• What You Get: In-store credit
• What You Give: Used DVDs
More like this story
More stories by this author