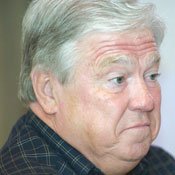 The Mississippi Magnolia Bar claims Mississippi Gov. Haley Barbour has proved leery of appointing blacks to judicial positions since he won the governor's office in 2003.
"He has not appointed any African Americans for judge in any of his 20 appointments," said Magnolia Bar Association President Malcolm Harrison. "It's sad that he cannot believe an African American could do the job."
Spurring the Magnolia Bar's irritation is the recent appointment of Oxford attorney James Maxwell to a judgeship on the Mississippi Court of Appeals, effective March 1. Maxwell will replace Judge David Chandler, who was elected last year to the Mississippi Supreme Court.
"Jimmy's experience as a federal prosecutor, and his work in private practice will be invaluable to his role on the Court of Appeals," Barbour said in a press statement. "I appreciate his commitment to serving the people of Mississippi."
Barbour is the former chairman of the Republican National Committee and remains a huge presence in the GOP. Maxwell's wife, Mindy Maxwell, is the Oxford office director of another GOP giant, Mississippi Sen. Thad Cochran, who chaired the Senate Appropriations Committee before Democrats won the Senate in 2006.
The Magnolia Bar does not question Maxwell's ability. He served as an assistant United States Attorney for the Northern District of Mississippi since 2002. However, a call to the Mississippi Bar Association revealed that Maxwell has only held a bar license since 2001, and Harrison said he believed a state containing the highest national percentage of African Americans likely contained capable black lawyers with experience extending beyond seven years.
"African Americans are more than qualified to serve on the Mississippi Court of Appeals, as well as any other judicial appointment. In fact, Mississippi Court of Appeals Chief Judge Leslie D. King is an African American—at least he was last time I checked. There are qualified people who are available, but the governor has seen fit not to even consider an African American in these positions," Harrison said.
Last September, Barbour replaced black Leflore County Court Judge Solomon Osborne with Seventh Chancery Court District of Mississippi court administrator and senior staff attorney Kevin A. Adams, who is white.
Barbour said in a Sept. 30 press release that "Kevin's solid credentials as a well-qualified, conscientious judge" made him "the perfect choice for this position."
The governor appeared to make no connection to the fact that Leflore County is about 70 percent black.
"The bottom line is that there are qualified blacks to serve as judge at any level, in this state, but Barbour has not chosen any because he does not believe that diversity is an issue," Harrison said.
Ed Brunini, who heads the governor's Judicial Appointments Advisory Committee—which reviews the qualifications of potential judicial appointees—confirmed that Barbour had appointed no African Americans to judicial seats, but attributed the problem to a tremendous lack of black applicants.
"We have not, to my knowledge, made an appointment of an African American judge, but the problem we have is a paucity of applicants," Brunini said, pointing out that only three applicants applied for Chandler's vacated position. "This last judgeship was in a circuit court district in northeast Mississippi. But there are no significant number of lawyers practicing in that area, and the good ones don't want to give up their practice to be a judge because they're making considerable money in the private sector."
Jackson attorney Carlton Reeves said blacks were regularly applying to Barbour's Committee for Judicial Appointments because Reeves had personally submitted to the committee letters of recommendation on behalf of hopeful attorneys seeking positions.
Mississippi NAACP President Derrick Johnson said that he could not easily swallow Brunini's "empty-pond" argument.
"We're in a state where African Americans make up 37 percent of the population," Johnson said. "We have an abundance of qualified individuals who can serve this state as court judges, as has been proven by the more than 28 judges that effectively serve on the bench, and for this governor to use a mindset that is remnant of the 1950s and 1960s is not only insensitive to the African American population, it is a continued embarrassment."
Other attorneys, speaking anonymously, complained that the committee did not widely advertise the application deadline. Barbour's Web site listed a Dec. 1 announcement of the talent search for Chandler's vacated position. But the back-issue list of advertising from Mississippi Bar Association—one of the more notable communication outlets for Mississippi attorneys—reveal the ad for Chandler's position did not appear until the Jan. 5 edition of the bar's weekly advertising. The deadline for the application, according to Barbour's December letter, was Dec. 31. (The Bar did engage in a little post-deadline overkill, however, advertising the committee's search as late as Feb. 2.)
Johnson said any committee seeking the inclusion of more blacks could easily submit advertising to the Magnolia Bar, an associate member of the National Bar Association that is composed primarily of African American lawyers.
Brunini said the committee had never placed ads with the Magnolia Bar, but would consider it in the future.
Previous Comments
ID

143525

Comment

Eight years of experience - that's not a lot in lawyer years.

Author

Jennifer2

Date

2009-02-12T10:31:38-06:00
ID

143529

Comment

Yes. He's been a lawyer for only eight years. Which is not a lot to serve on the state's second highest court.

Author

Jennifer2

Date

2009-02-12T11:23:05-06:00
ID

143533

Comment

We are always accused of playing the race card, but when it is as obvious as the nose on my face, I've got to call a spade a spade. If you truly & sincerely were seeking diversity in your appointments, then you would reach out and ensure that your search process for qualified applicants was truly inclusionary.

Author

lanier77

Date

2009-02-12T11:40:01-06:00
ID

143542

Comment

no justice, no peace.

Author

kaja

Date

2009-02-12T15:11:29-06:00
ID

143553

Comment

Haley pulls out his folksy hitchup yer britches schtick whenever he wants something from the people of Mississippi, and it usually works. Then it surprises everyone when his Republican-to-the-core being shatters that facade -- doesn't matter if we're talking about appointing minorities, the stimulus package, eminent domain or whatever.

Author

chaffeur

Date

2009-02-12T20:09:06-06:00
ID

143562

Comment

Only licensed in Mississippi for 8 years.

Author

QB

Date

2009-02-13T10:42:57-06:00
ID

143569

Comment

Ok, Barbour says through his head of Judicial Appointments Advisory Committee there weren't any or very few African-American applicants. That should be easy enough to prove or disprove. Is he lying?

Author

WMartin

Date

2009-02-13T16:36:42-06:00
More like this story
More stories by this author