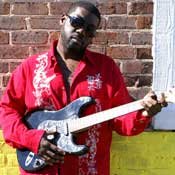 Playing to a packed house on open-mic night at Lumpkin's BBQ on Raymond Road, the four members of The Blues Eruption jam organically as one unit. Stephen "Stevie J" Johnson nods coolly to his bandmates, who ease into a funk shuffle from the song's original hard, driving blues groove. Drummer Tim Henderson locks the band into a tight pocket with his beat, dropping an extra bass-drum kick behind the steady crack of the snare drum.
While Stevie J lovingly backs up the melody with rhythmic jazz chords, keyboard player Steve Lewis smiles as the band members all glance at him, his fingers suddenly dancing on the higher notes of the piano while his left hand hammers the three-chord pattern. The band, now fully honed in on this lone funk pattern, drops out for one measure at the cue of Stevie J's raised fist. Bassist Anthony Rimmer fills the empty space by slapping out a flashy lick before the band jumps back in.
Stevie J and The Blues Eruption have been playing together for the past five years, merging their blues, funk, soul, jazz and gospel influences into a refreshingly energetic, refined sound. Singer and lead guitarist Stevie J, 36, is a native Jacksonian and a preacher's son. He says the first time he touched a guitar was at age 10.
"The bass player that played at my dad's church, I picked his bass up one night when he didn't come to church, and I broke a string," Stevie J says. "I put his bass in the case, and didn't even say nothing. Then Sunday morning when he got to church, he was like, 'Stevie! You been at my bass?'"
A tall, bulky character who laughs easily and plays passionately, Stevie J says his musical career began when he boarded The Williams Brothers' tour bus the day after he graduated high school. He's since played professionally for 20 years with several contemporary blues figures like Susan Tedeschi, Ronnie Baker Brooks, Kenny Wayne Shepherd and Michael Burks. He says he was most awed while playing with some French bluesmen at the Cognac Blues Passions Festival in France with Bobby Rush.
"They sounded like they were from Clarksdale, Mississippi," Stevie J recalls. "We just had to start playing, and they caught it by ear, man, and we was jamming and playing this blues, man ... and when I went to talk to them, they couldn't speak English! And I was like, 'But you were just talking about your baby!'"
Stevie J gathered members of The Blues Eruption by chance. When other musicians had to cancel a gig at the 930 Blues Cafe at the last minute, he called on Lewis, Henderson and Rimmer—his friends in the local music scene.
"They bailed me out. And from there, it just came on," Stevie J says.
The singer and guitarist says he remembers fondly The Blues Eruption's first years in the local scene, where the musicians bonded with each other as they played week-long gigs at unorthodox venues.
"We was staying in houses and trailer parks, you know what I'm saying, just together as a band." Stevie J says, laughing. "Doing a lot of dirt. You know what I'm saying? We got real, real, real cool. You know. We got really cool."
Now, Stevie J and The Blues Eruption can be seen the first Tuesday of each month at Lumpkin's BBQ, hosting what Stevie J refers to as "open mic/open bandstand night." The band plays a short set starting at 8:30 p.m., and then lets local amateur musicians, poets and singers take the stage. Stevie J says all performers need a stage and an audience in order to develop their craft.
"Anything you do as a trade, you have to get good at it, you know, before you can become a professional," Stevie J says. "There's a lot of talent in Jackson. There's a lot of places to expose talent. But this is my blues jam. The whole idea is to expose talent here that wouldn't otherwise get heard, you know? It's a voice for talent that may not have a steady gig."
For today's rising musicians in Jackson, Stevie J just has one piece of advice.
"Do like Eminem says. Lose yourself in it the moment you're on it," he says. "Lose yourself in it. Get wrapped up in it. Make it yours, you know?"
Stevie' J's latest album is a southern soul and blues combination, "Two Sides of a Man." Listen to his music at steviejblues.com. In addition to open-mic night at Lumpkin's BBQ on the first Tuesday of every month, the band also plays at Cafe 101 on Farish and South Sreet the following Tuesdays starting at 8:30 p.m.
More like this story
More stories by this author
Like independent media outlets around the world, the Jackson Free Press works hard to produce important content on a limited budget. We'd love your help! Become a JFP VIP member today and/or donate to our journalism fund. Thanks for considering a JFP VIP membership or one-time support.