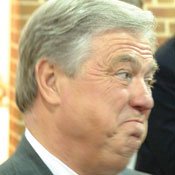 Gov. Haley Barbour made national news again this week by comparing health-care reform—as envisioned in the U.S. House and Senate—to the horror of the Jonestown massacre. Speaking as chairman of the Republican Governors Association, Barbour equated the Democrats' health-care reform proposal in Congress to the poison Jim Jones used to kill 918 of his cult followers in a 1978 mass murder/suicide in Jonestown, Guyana.
"I've been looking for Jim Jones and where's the Kool-Aid. This is awful, awful policy for our country, and the people know it. The public already understands this. And the longer the debate goes on, the more the public understands that they're going to end up paying more and that they're going to get lower quality health care," Barbour said, adding that if the Senate passed the reform it would prove "a political windfall for Republicans."
Back in Mississippi, Starkville Mayor Parker Wiseman, who is also president of the Association of Young Democrats, found the comparison unsuitable for the debate, indicating the comment would backfire on Barbour anti-health-reform arguments.
"That's the problem with rhetoric. It's a powerful device, but one of the liabilities is it sometimes makes a more powerful statement than people intended when they use it," Wiseman said.
State Democratic Party head Jamie Franks said Barbour's hostile attitude toward increasing health care reflected his disconnect with the people of Mississippi.
"This is a man who still carries state-funded bodyguards around with him for these trips of his to the governors association while asking the state of Mississippi to merge its black universities to cut costs," Franks told the Jackson Free Press.
Barbour's spokesman Dan Turner said the governor does have a state-funded security detail, funded through the Mississippi Department of Public Safety, which can travel out of state with him on various appointments. But Turner added that Barbour's situation was no more unique than that of past governors.
"It's the same security that was funded for (Govs.) Musgrove, and Waller and Winter and Finch, and anybody else you want to name," Turner said. He added that he could not verify whether recent budget cuts demanded by Barbour had included his personal security team.
Judith Solomon, senior fellow at the Center on Budget and Policy Priorities, told the Jackson Free Press that state Medicaid costs would indeed increase with the passage of health-care legislation in its current form. She said, however, that Medicaid is slated to explode in costs whether or not Congress passes reform.
"It will add to the costs, but it's balanced with the need for action on federal reform to contain costs. We're already paying for these people through higher rates," Solomon said.
A study by Washington D.C.-based think tank The Urban Institute predicts that the number of people without health insurance will increase by more than 30 percent in 29 states within the next decade.
The report "The Cost of Failure to Enact Health Reform" shows incredible economic strain on both individuals and businesses in every state without reform, with individual and family spending on premiums and out-of-pocket costs possibly increasing by 68 percent. Those cost increases inevitably spell Medicaid cost increases for states, as more people switch to Medicaid because more businesses are dropping increasingly expensive insurance plans for their employees.
The report also said some states could expect as much as a 106 percent increase in Medicaid and CHIP costs by 2019 for the non-elderly population, as well as a 127.8 percent increase in uncompensated hospital care costs, as more and more people prove unable to cover their emergency room visits.
Previous Comments
ID

154383

Comment

WOW! You have to give ol' Haley credit for that stretch of the imagination! GOP = LOL!

Author

Lori Kincses

Date

2009-12-18T14:08:57-06:00
ID

154384

Comment

Why is Franks talking about security details in an article on Barbour's wandering train of thought? I mean, even I think Jonestown is a bizarre thing to bring up in this debate, but Frank's non-response is even more baffling.

Author

Ironghost

Date

2009-12-18T14:11:26-06:00
ID

154400

Comment

I think that Frank's point is well spoken: If the Gov. is so concerned about cost, why doesn't he give up something to cut it. This might sound trivial; however, every dime saved is an eventual dollar and.....What is interesting to me is the campaign rhetoric from Haley. While running for office, he could do everything under the sun: Now his only talent is "cutting and merging." Someone should tell Haley that many Mississippians die because they do not have access to health insurance. Jim Jones did not make the Kool Aide for their deaths. Many of the bankruptcies filed in this state are secondary to uncovered health care expenses. MS needs a people person: It needs political people who are not so far removed from the reality of the "have nots."

Author

justjess

Date

2009-12-21T09:38:20-06:00
ID

154401

Comment

...and by the way, great article Adam. A lot of people can't get passed Sen. Franks' past humor and his role on SNL. The man is a genius. I laughed uncontrollably when he told Joe Lie-berman to go somewhere and sit his "A" down. This is my translation when Frank would not extend Joe's time on the Senate floor.

Author

justjess

Date

2009-12-21T09:44:40-06:00
ID

154402

Comment

Justjess: Don't you mean Senator *Franken*?

Author

Jeff Lucas

Date

2009-12-21T09:58:10-06:00
ID

154408

Comment

OMG! Thanks Jeff. MY BADDDDDDDDDDDDDD!

Author

justjess

Date

2009-12-21T11:11:56-06:00
More like this story