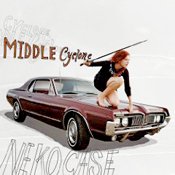 Neko Case - "Middle Cyclone"
3.5 of 5 stars
For those who are not already a part of the Neko Case following, the ginger-haired singer-songwriter is something of an acquired taste. Case's music combines dense vocal phrases and complex melodies over a heavy backdrop of country, rock and pop. Her voice is powerful and rustic, similar to a less scratchy Stevie Nicks. And her latest album, "Middle Cyclone," closes with 30 minutes of crickets chirping ("Marais la Nuit").
Despite these eccentricities, "Middle Cyclone" boasts a confidence and originality that is endlessly compelling, and Case balances multiple genres with equal deft. "People Got a Lot of Nerve," is reminiscent of '90s pop-rock with a catchy blend of sing-along melodies and guitar. In contrast, the subtler "I'm an Animal" is anthemic with a steady, rumbling drum and fuzzy backdrop. And the lilting rhythm and nostalgia of honky-tonk ballad "Don't Forget Me" enchants repeatedly.
Occasionally, Case can feel a bit too earthy, like on the drifting, prairie folk of "Never Turn Your Back on Mother Earth." Still, it's this complete abandon that makes her songs so compelling, and the missteps are a small sacrifice for the curious draw of the album as a whole.
Asobi Seksu - "Hush"
4 of 5 stars
Asobi Seksu's third album "Hush" is like a beautiful dream you don't want to end. Whereas their earlier albums were buoyed by youthful exuberance and a bit of rebellion, "Hush," like it's name, is more tranquil and reflective. With the noise and distortion tuned down, lead singer Yuki Chikudate's vocals have a stronger presence than on previous records, and the newfound clarity reveals a breathtaking voice. Anchored by Chikudate's vocals, songs float through a cycle of cloudy production, '80s dream-pop backdrops, cascading guitar lines and keyboard.
The album has a solid track list, but a few songs stand out. "Transparence" is an airy mix of cascading guitars and drum rolls, while "Glacially" puts its '80s sheen and reverberating synth lines out front. Emotions run high in the celestial "Meh no Mae," where angelic yet plaintive vocals meet shoegaze squall. "Me and Mary" pairs run-on vocal phrasing with propulsive pop and noisy guitar clashes.
As a whole, the album's mood and aesthetic are uniform, and one could easily criticize the band for being one-note in this record, but the album is so beautiful and graceful, small criticisms aren't really a concern.
Decemberists - "The Hazards of Love"
3 of 5 stars
On Decemberists' latest rock opera, "The Hazards of Love," the band trades whimsical adventure tales for something more menacing. Metal dirges, haunting organ tones and grizzly guitar riffs abound, and the songs are more contained and less sweeping than the band's normal style. The opera's focus on a troubled love story gives Decemberists plenty of emotional range and room for experimentation, while still allowing for a few standard cinematic folk-pop tracks.
One of the album's highlights is "The Wanting Comes in Waves/Repaid." The song opens with lead singer Collin Melloy tinkering on an antique piano and blossoms into a trademark jubilant chorus. About halfway through, the song abruptly shifts to a spellbinding rock creep as guest collaborator Shara Worden—of My Brightest Diamond—takes over. Worden's husky, low vocals complement the metal undertones perfectly.
While the experimentation and narrative structure provides unexpected and enjoyable tracks, it also has its drawbacks. Many of the segues within songs feel abrupt, and the stylistic shifts and lulls make the album feel a bit spotty. Ultimately, "The Hazards of Love" is an intriguing and occasionally inspired turn for Decemberists, but it's not exactly your best bet for casual listening.
More like this story
More stories by this author
Like independent media outlets around the world, the Jackson Free Press works hard to produce important content on a limited budget. We'd love your help! Become a JFP VIP member today and/or donate to our journalism fund. Thanks for considering a JFP VIP membership or one-time support.