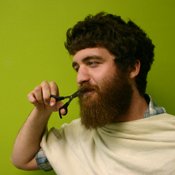 Before undertaking the growth and ultimate design of your mustache, be sure to consider the opinions and feelings of spouses, significant others, friends and family who also have to live with your new facial hair. Also consider the appropriateness of having a mustache for your job or career and any other outside factors that would play a part in how well others receive your mustache.
You don't have to go to a barber to have a well-manicured face. In fact, you don't even have to leave home. If it's time for a trim, you can do it yourself easily.
Trimming your mustache can leave a trail of pesky little hairs, so plan your trimming in advance. Allow plenty of time and select an area that can be easily cleaned. Some men prefer to use a comb and sharp mustache scissors to trim their mustache. Others prefer commercial trimmers. Regardless, these tips ensure a classy trim every time.
There are two basic steps to trimming a mustache: First, define and adjust the overall length of your mustache hair. Second, shape the mustache.
1. Cover your clothing with a towel or plastic drape like those used in a salon or barbershop.
2. Stand back and look at your mustache in a mirror with a good light source to determine the areas that need to be trimmed and shaped.
3. Comb your mustache so that all the hairs are laying in the same direction.
4. Trim the mustache length first. (Keep in mind that because hair grows in different directions, you must trim in multiple directions. You will have to trim both with and against the grain to catch the hairs that are bent over.)
5. If trimming with a comb and a scissors, comb against the grain of the mustache hair, to get it to stand up against the normal grain. Then use the scissors and cut against the base of the comb to achieve a uniform length. Remember to take your time and work carefully. Once you chop hair, you can't glue it back on.
If you use a trimmer, set the trimmer height to the desired closeness, then use the trimmers built-in guide to achieve a uniform length. Although you trim against the grain for the most part, you will also have to trim from the sides because not all hair will grow uniformly.
6. Work from side to side until you have trimmed the mustache hairs to the desired length. Be sure to check the length or the mustache for evenness at both corners of the mouth.
7. Once you are completely happy with the length of the mustache, shape the mustache with your scissors and comb or your trimmer.
When deciding the proper design for your mustache, consider:
• Overall length of your mouth
• Size of your nose
• Size and fullness of your upper lip area
• Overall width of your cheeks
• Shape and width of your jaws and chin area
• Density of hair growth
• Facial hair color and texture
• Current mustache fashions and trends
Where2Shop
Barnette's Salon
Banner Hall, 4465 Interstate 55 N. Suite 201
601-362-9550
Great Scott
4400 Old Canton Road
601-984-3500
Sources: http://www.hairboutique.com, http://www.hairfinder.com and http://www.facialhairsociety.com
More like this story
More stories by this author