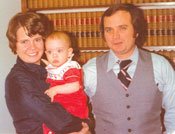 UPDATED
Also see: Dem At Your Own Risk
The wife of a possibly wrongfully convicted Mississippi attorney has died. Sylvia Minor, the wife of former attorney Paul Minor, died from brain cancer Monday night, former Supreme Court Justice Oliver Diaz told the Jackson Free Press.
Minor, who is serving 11 years for judicial corruption, is appealing his conviction, arguing that the federal justice department under President George Bush pushed prosecutions against Democrat politicians and fundraisers like himself in an attempt to swing elections toward Republicans. A congressional committee is investigating whether former Chief of Staff Karl Rove influenced the justice department under former Attorney General Alberto Gonzales, but Rove has repeatedly refused to answer questions from the committee under oath.
Minor had asked to be released on bond April 9 pending appeal, but 5th Circuit Court Judge Priscilla Owen, who had hired Rove as a campaign manager for $250,000 to help her in her run for Texas Supreme Court in 1994, refused to grant him a bond. The panel later upheld Owen's decision—despite the fact that she later recused herself from the panel because of conflict-of-interest issues.
Minor's father, columnist Bill Minor, called the situation "senseless," because the court may ultimately uphold the appeal—but too late for Minor to be with his dying wife. "He should have been out on bond anyway, pending appeal," Minor said today.
A three-judge panel is currently reviewing Minor's appeal and voicing questions about the irregular jury instructions granted by Reagan appointee U.S. District Judge Henry Wingate during Minor's 2007 trial. Wingate, after presiding over the prosecution's failed attempt to convict Minor in a 2005 corruption trial, instructed the jury in 2007 that they did not have to find any proof of a bribery in Minor's corruption case.
One of the three judges, Will Garwood, seemed doubtful that the prosecution had not outlined a particular exchange of goods in the bribery case, as did Judge Catharina Haynes.
The panel will decide on the appeal at an unspecified date.
Minor had recently asked U.S. Attorney General Eric Holder to weigh in on his release request, although Holder had not responded as of Sylvia's death, according to Minor's father.
"Paul tried everything he could to be with Sylvia in her last days," said Diaz, a Democrat-leaning judge also prosecuted by U.S attorney Dunn Lampton during the Minor trial, although Diaz never presided over any of Minor's disputed cases. "We just wish their family well, and we're sorry he couldn't be with her."
The panel told Minor last month that he could still petition the Federal Bureau of Prisons for a temporary release, though the bureau had shown little humanity in Minor's last petition. His last temporary release through the bureau's generosity only got him three hours with his wife in February.
Minor's lawyer Hiram Eastland told the Jackson Free Press that Sylvia drifted in and out of consciousness during that visit and said it was doubtful that Sylvia even remembered seeing her husband's face. Minor's father said that, as of Tuesday morning, Paul Minor did not know whether he will be able to attend the funeral.
Previous Comments
ID

145903

Comment

God forbid he actually be guilty, I guess.

Author

Ironghost

Date

2009-04-14T16:16:35-06:00
ID

145905

Comment

God forbid the feds actually have to prove he bribed someone to do something. It's remarkable, really: In Melton's case, he did what the feds said he did without question, and the judge has to bend over backward to allow him a line of defense anyway—even though here isn't really one. In Minor's case, there has been no evidence presented that he actually bribed anyone—he isn't on trial for being a cad, or such—and the feds couldn't prove it the first time. So the judge bent over backward in the second trial to say that they didn't actually have to prove that he bribed someone to convict him of bribery. It's going to be intriguing to see how the appeal goes. I've never met Minor in my life, but it scares the hell out of me that the government would get away with this level of blatant political prosecution. It should scare of us, even Ironghost, who would be doing backward flips if a Democratic Justice Department had done this to Republicans—and rightly.

Author

DonnaLadd

Date

2009-04-14T16:41:42-06:00
ID

145908

Comment

It's a shame that the government didn't allow Minor more time to spend with his wife.

Author

golden eagle

Date

2009-04-14T17:03:53-06:00
ID

145915

Comment

Minor's wish to be with his wife should never have been a partisan battle, but rather a compassionate decision to do the humane thing and allow him to spend time with his dying wife.

Author

lanier77

Date

2009-04-15T07:37:31-06:00
ID

145935

Comment

You know, I do feel sorry for Mr Minor and all, but I don't see why he should be treated any different than any other prisoner. As a side note: [quote]It should scare of us, even Ironghost, who would be doing backward flips if a Democratic Justice Department had done this to Republicans—and rightly. [/quote] Well, it's CNN (check the picture!) and others. We can, however, debate this point elsewhere.

Author

Ironghost

Date

2009-04-15T15:19:01-06:00
ID

145946

Comment

Paul Minor is guilty of bribery, racketeering and fraud as found by a jury and one of them said the instructions given by the judge didn't influence tha jury. He was guilty and that is that. If you commit major crimes you should expect to be in prison and you miss out on many of lif's most important things

Author

bevd

Date

2009-04-15T18:30:38-06:00
ID

160333

Comment

Sad story, but Mr. Minor has no one to blame but himself.

Author

kudzuking

Date

2010-10-14T10:04:41-06:00
More like this story
More stories by this author