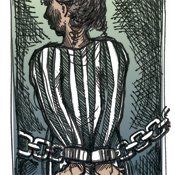 Parents of six DeSoto County students are suing the city of Southaven, school district employees and police officers for alleged racial discrimination during an incident on a school bus last year.
In their suit, filed yesterday, the parents allege that on Aug. 12, 2008, a bus driver and bus monitor mishandled a verbal altercation between two girls, one black and one white, by pulling over to the side of the road and calling for police intervention. When police arrived several minutes later, two officers arrested the black girl and five other black students but released the white girl after hearing only her account of the altercation. The students arrested were between 14 and 18 years old, and all attend the alternative school for DeSoto County.
The parents claim that Southaven police officers Tomas Aguilar and Lee Holiday singled out other black students on the bus for offenses no greater than smiling and then used excessive force during the arrests and afterward. At one point, the lawsuit alleges, Aguilar tackled a student to the ground outside the bus and threatened to use a Taser on him as Holiday drew and aimed his gun at the boy's head. The parents also claim that Aguilar choked a girl for telling him that she would call her mother.
Attorneys for the American Civil Liberties Union, which is representing the parents, have a copy of bus security camera footage, which they have shown to reporters.
Video and audio from the bus security camera shows Aguilar pinning a female student against a window and yelling, "You don't talk to me that like that. Do you understand?" after she says that she will call her mother.
"I was devastated when I first viewed the video," the girl's mother said Thursday. She identified herself only by her initials, P.H., for fear of retribution. "I just hate to even think about what effect it might have caused my daughter," she added. "Now she's terrified. The officer is in her school. She goes around the other way, the long way. She's tardy for class because she doesn't even want to pass that officer."
ACLU attorneys say that Aguilar is assigned to Southaven Middle School.
Reached Thursday for comment, Southaven Police Chief Tom Long said that that the police department had not been served with the suit and that he could not comment.
"We have no knowledge of any of it," Long said. "I don't want to say anything that would have to with any pending lawsuit."
Katherine Nelson, director of community relations for DeSoto County Schools, responded to a request for comment with an e-mail statement:
"Safety is our No. 1 priority at school—and when students are on a school bus, they are still 'at school.' There is no excuse for fighting at school or on the bus. When a disturbance broke out, the African-American female driver called the Southaven Police Department for help. Two students were taken off the bus for the disturbance; other students started laughing and acting disrespectful of the police. Police took six students to the police department. … The case has been investigated, and the case was adjudicated."
Nelson also confirmed that both school employees on the bus are employed in the same positions.
"Race has nothing to do with students being sent to the Desoto County Alternative School—it is determined by students' behavior and by poor choices they make," Nelson concluded.
ACLU attorney Jamie Dycus contends that the bus incident exemplifies a pattern they call the "school-to-prison pipeline," which includes the funneling of students into alternative schools for minor offenses and the use of police officers in public schools.
"Instead of principals, teachers and bus drivers handling minor misconduct themselves, the way they used to, they simply call the police to arrest kids for things like arguing, laughing or smiling," Dycus said.
"What happened on this bus didn't make kids safer. It put them at risk and it did them harm."
More like this story
More stories by this author