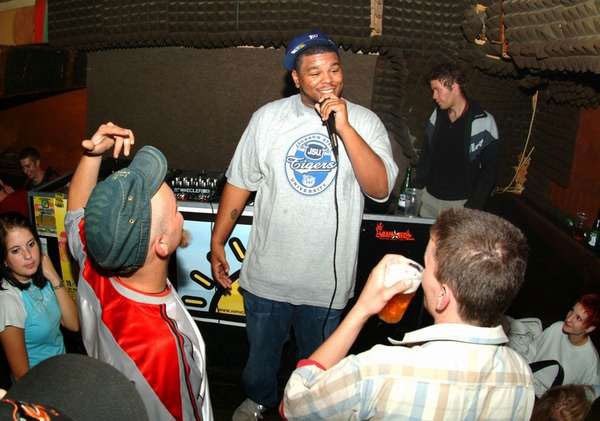 "I'm a tool," rapper Skipp Coon says, laughing, while gushing over his debut album, "Women Revolution Tennis Shoes" which he completed alongside producer Mr. Nick. No, this is not your stereotypical rapper posturing. He clarifies by stating: "This is the reason that God put me here. I want to change the world and show the people that there is an alternative to what they are listening to. I believe that whatever I'm doing, I'm a tool of God in an effort to change the world.
Jackson. Skipp, though, exhibits the talent necessary to create such important bodies of work. Skipp Coon and Mr. Nick built the concept for the album at the local hip-hop Mecca, Seven*Studioz. The result is an album that emits the spirit of Jackson from every pore. Deep horns and basslines, and soulful samples permeate the album.
Mr. Nick constructs a backdrop that places his home state in the forefront. "Concrete" features a looped soul sample evoking images of past blues crooners, while "What If I" features a chilling saxophone over funky drums that would make Gil-Scott Heron proud. Mr. Nick manages to orchestrate a collision of blues, jazz and soul to bring an all-encompassing Mississippi sound to "Women Revolution Tennis Shoes."
The production is matched by Skipp's ability to weave concepts, history, lyrics and a good old-fashioned southern drawl to make this album a definitive opus. His first words on the album are "Heavenly Father," which sets the tone for the rest of the record as Skipp's voice conveys a bevy of emotions with each word he belts out. His accent makes the MC sound more like a reverend waxing poetic over the melodies. His words are deliberately delivered sermons that pose hard-to-digest questions: "Sometimes I wonder if I'm really inside God's graces/ Have y'all ever seen the faces of a 15-year-old that can't read on a third grade level?/ That's how our cycle of poverty gets pedaled."
Skipp takes his work beyond the parameters of a basic album and into the history books. He draws parallels between slavery chains and the modern-day pursuit of fine jewelry, and correlates colonialism and crooked politicians. He does all this in an accessible way that keeps the album from being didactic.
Much like Mr. Nick blends past musical influences into this album, Skipp blends his historical knowledge with his ability to speak directly to pressing issues, creating a mood of hope, sadness and triumph. One minute he's channeling Stokely Carmichael and Medgar Evers, the next he's speaking on a struggling education system. The rapper/producer team holds up a mirror stretching from McDowell Road to County Line Road to show a vivid image of the city that history and politics has created.
"In 10 years ... people will see this as one of the things that created change," Skipp says. "People heard the record and started to do something. They heard the record and wanted to make changes."
"Women Revolution Tennis Shoes" is the sort of career-defining album that can set Skipp and Mr. Nick apart in a sea of cookie-cutter music. The album is a great demonstration of the type of music Jackson can provide while also pulling no punches in local criticism that we sometimes desperately need. The revolution will not be televised, but thanks to Skipp Coon and Mr. Nick, it can be heard.
Top 10 Playlist
MR. NICK AND SKIP COON
10. "You Can't Hold a Torch," by Busta Rhymes
9. "We Almost Lost Detroit," by Gil Scott-Heron
8. "Subliminal Broad," by Us From Dirt
7. "Someday We Will All Be Free," by Donnie Hathaway
6. "Return Of the G," by Outkast
5. "Me, Myself, and I," by De La Soul
4. "Last Donut Of the Night," by J Dilla
3. "Dirty South," by Goodie Mob
2. "Cre-a-tine," by Cool Breeze
1. "93 Til Infinity," by Souls of Mischief
Previous Comments
ID

140013

Comment

Good luck with the album, Skipp. You're still my hero; though, you're just a young whipper snapper. I'll make sure that I buy the album. What a way to keep it real - acknowledge history, past great artists and lean to spirituality for guidance, definition and purpose. You're my _______ if you don't even get any bigger. And since you have your head screwed on right, I know if you do get bigger, you'll still be only a bigger _______. Whaat?!. Obviously, I meant "brother."

Author

Walt

Date

2008-10-30T12:38:10-06:00
ID

140052

Comment

Skipp and Nick, What we need... Fresh Rhymes and Dope Beats, and now we got it. Jackson is proud... and so is Miami(calle ocho, baby!!!).

Author

BEATGROUP

Date

2008-10-31T08:34:45-06:00
ID

140059

Comment

Where can we get a copy? What is the reasoning behind the title?

Author

FreeClif

Date

2008-10-31T11:50:20-06:00
ID

140123

Comment

thank you all...theyre @ bebop and in our hands were always around...look for us on itunes as well...

Author

skipp

Date

2008-11-03T13:36:47-06:00
ID

140124

Comment

Thanks Skipping? Where have you been?

Author

Walt

Date

2008-11-03T13:39:16-06:00
ID

140143

Comment

working buddy...this whole thing is happening pretty fast...were really excited..happy to see you back as well...there was a guy on here acting like you...will prolly be out tuesday night "celebrating" really want to talk to you about your opinion of this election...where am i buying you an adult beverage on tuesday night?

Author

skipp

Date

2008-11-03T16:23:07-06:00
ID

140145

Comment

I don't drank alcohol Skipp, and tomorrow night isn't a good time to start. David Duke is having some kind of rally in Desoto County according to the clarion ledger that is to last several days. He's coming to get us and we got something for him this time. I'm gonna be packing more sh1t than Isaac Hayes had in I'm Gonna Get You Sucka. Besides, I gotta work the polls from early morning to late evening. I'll find out where the good people will be partying and likely crash a party or two. I'll look for you at the JFP party.

Author

Walt

Date

2008-11-03T16:34:50-06:00
ID

140517

Comment

Skipp I purchased your album yesterday and am listening to it as I work like a Hebres slave trying to keep people alive. Number Seven, Concrete (Reservation), is my favorite so far. Good work.

Author

Walt

Date

2008-11-10T11:47:26-06:00
ID

143085

Comment

I just bought this album on iTunes last night and it may seriously be the best hip-hop album I've ever heard. Subjective assessment but if you're asking me... Damn. "I Can't Cope" in particular has some of the best lyrics I've heard ANYWHERE but the whole album is solid. This is the kinda hip-hop I actually want to listen to: socially conscious, radical, deep, perfect beats. (And I agree with Walt. "Concrete" is pretty amazing too...)

Author

Tom Head

Date

2009-01-26T20:03:04-06:00
ID

143086

Comment

One of the things that gets me about the album btw is the narrator. He's obviously not performing just as Skipp. This has more the tone of institutional memory. He's giving voice to the dead, and I think that's one of the best things music can do.

Author

Tom Head

Date

2009-01-26T20:07:26-06:00
ID

143090

Comment

Concrete is a classic.

Author

FreeClif

Date

2009-01-27T09:06:07-06:00
ID

143093

Comment

Congratulations and my prayers and well wishes for much success.

Author

justjess

Date

2009-01-27T10:51:32-06:00
ID

153070

Comment

I saw Skip at the Jackson Art Collective and he was amazing. Did spoken word poetry. I bought the CD Women Revolution Tennis Shoes and love it. I especially like the little sound bites between songs, gives it an historical depth.

Author

Deanna

Date

2009-11-04T21:11:16-06:00
More like this story
More stories by this author