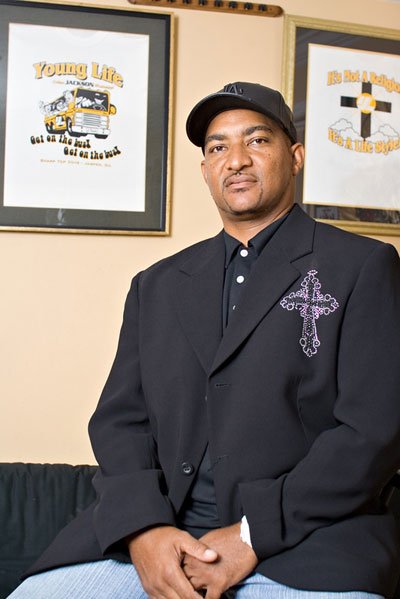 "Fast cars, fast motorcycles, fast women." That's how Vince Gordon describes his former lifestyle as a military policeman in Yokosuka, Japan.
Now 44, Gordon is the director of YoungLife Urban, the Jackson chapter of a national Christian youth group. Gordon says he was drawn to YoungLife for its "relational" approach, which emphasizes building relationships over handing out Bibles. Often wearing fake teeth or a wig while addressing young people, Gordon adheres to what he calls a "3-L Philosophy": "If you're laughing while you're learning, it's gonna last."
Gordon grew up in South Central Los Angeles, the eldest of three children. While he stayed busy in high school with band and athletics, his younger brother hung around the notorious Bloods gang. When Gordon was 16, his mother moved the family to Jackson, and Gordon enrolled at Lanier High School.
"It was like my world came to an end, because there was nothing, nothing to do (in Jackson)," Gordon recalls.
He struggled to find his place at Lanier, until the principal, recognizing his dancing talent, bought a bulldog suit and made Gordon the first human mascot in the district. Gordon earned some minor recognition for his dancing skills with an appearance on the television show "Good Morning Mississippi." Still, he was eager to join the Navy immediately after graduating in 1982. He worked on submarines for seven years before transferring to Japan for the last three years of his service. In Japan, Gordon became a born-again Christian and renounced the partying and drinking that had accompanied his service up to that point.
Gordon returned to Jackson in 1992 with his pregnant wife, Leila, and little else. He traded his Nissan Fairlady Z sports car and Kawasaki 900 motorcycle for a minivan and worked at a Church's Chicken and a gas station, before finding work with a job-training program for special-needs youth.
"These were kids who just needed a chance," Gordon says. "My job was to ensure that they did well once they got that chance."
Gordon reveals his youthful side when showing off pictures of his car collection: a Corvette, a PT Cruiser and a custom-fitted, 1992 Toyota low-rider truck with hydraulics.
Because his house and sizeable garage sit across the street from Lanier, Gordon can give students visual evidence that success is possible in Jackson. His cars provide another lesson, too. Even as he acquires toys he once had to give up, Gordon has given away three cars to needy families.
"It's the principle of reaping and sowing," Gordon says, "giving away to get.
Previous Comments
ID

139594

Comment

Mr. Gordon works very hard to help those in his community, and not just the kids at Lanier, but students throughout the metro area. KUDOs to Vince. Thanks for recognizing his commitment to his community and his passion to help.

Author

lanier77

Date

2008-10-23T15:30:26-06:00
More like this story
More stories by this author