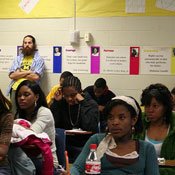 Hearts racing and full of energy, 15 Jim Hill students yelled at two teachers, and the teachers yelled at the students. But no one received detention in Room 213.
"Injustice!" Jasmine Brookes screamed out as Jim Hill teacher Jacob Roth pounced onto the nearest desk to write the word on the board. "Racism!" Charles Taylor yelled while dodging a flying marker thrown by Mr. Roth because he, himself, could not write the words fast enough. "War!" other students yelled in hopes that a leaping, marker-throwing Mr. Roth was not coming in their direction. "More words!" yelled David Molina, Civil Rights Civil Liberties co-founder and then-Jim Hill math teacher. Through the thick blanket of constant commotion, two people sat silently in the back, munching on Doritos and consuming all the opinions whizzing through the air. In Room 213, the students felt liberated, and the phrase "freedom of speech" showed its true face.
"It never mattered what they talked about because there was always something to talk about," said Roth, an inquiry skills teacher and co-founder of the CRCL Club at Jim Hill.
In the fall of 2005, The Mississippi Learning Institute offered $500 to any person who could create a club serving high school freshmen. Roth and Molina saw this as "an opportunity to do something. Anything," Roth said.
Without any real guidelines or plans, the two teachers invited their students to stay after school to mingle and eat pizza and Doritos.
"People didn't come to discuss politics or race," Molina says. "They came because there was free food, and they stayed because they had opinions and needed them to be heard."
The group of students grew from two or three in the first few meetings to a full classroom in no time. Roth and Molina had their doubts about the future of the group, but they continued to facilitate the meetings hoping that something would happen.
Eventually, the question was raised: Is it OK for two white guys with beards to discuss civil rights in a predominantly black school?
As time passed, the group—which predominately studied and discussed black issues—decided that it was unfair to discuss race without having other races pres-ent in the room. So in February 2006 they reached out to St. Andrew's Episcopal School for students who were also interested in civil rights and current economic problems. With the help of Roth and Molina, St. Andrews and Jim Hill students became closer and more open-minded. The more they disagreed, the more they understood and respected each other.
In the fall of 2006, the group experienced a dramatic change: It evolved from a school-based club to a community-based organization. It began with students packing into cars and going into Jackson neighborhoods to post signs promoting the school bond issue, which would provide funds for schools to improve their buildings and campuses. With the help of CRCL, the bond passed.
In September 2007, Murrah High School students were mixed into the batter of determined young people, after Dave Jones, a Murrah High teacher, proposed that some of his students join. They jumped on the opportunity and made an effort to start a CRCL. The Murrah students were enthused about the idea, but the administration was worried about the destabilizing effect of student activism. This made Murrah students less interested in the Murrah club, and the Murrah CRCL fell apart.
But hope was not lost. Murrah students carpooled to Jim Hill's Wednesday afternoon CRCL meetings and were welcomed with open arms. At the end of the second year, Roth and Molina left Jim Hill. Roth moved to Virginia with his wife, and Molina now works for the William Winter Institute for Racial Reconciliation in Oxford.
Robert Pollack, a former Jim Hill English teacher, and Robert Bland, a history teacher at Jim Hill, facilitated the meetings in the third year. Bland now supervises CRCL, although Molina still steps in from time to time to check on the students and help organize meetings. The group plans to do more community work in the future. By remembering their past struggles and hoping for a better future, the members of CRCL will carry the group's legacy.
"Could this group survive the loss of both the original founders?" Roth asked. The group replies in word and in deed: "Yes, we can!"
Full Jackson Media Literacy Project package:
Screw Friendship Bracelets
Eyes on the Machine: Jackson Teens Cover the Media
Editors Speak Up
'Yes, We Can'
The Mouth Of Babes
Intentional Bias
Now What?
Related:
David Molina's Blog Post on the Jackson M-Lit's genesis (+ great photos)
More like this story
More stories by this author