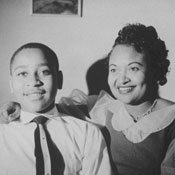 If there is any doubt that the wheels of power grind slowly, the U.S. Senate proved the point this week, when, after more than three years of delays, it unanimously passed the Emmett Till Unsolved Civil Rights Crime Act, which will strengthen federal and local agencies' abilities to investigate and prosecute unsolved civil rights era murders.
The act, which was first proposed in July 2005, after the Senate passed a resolution to apologize for lynching, passed in the House June 20, 2007, with nearly unanimous approval (422-2). Since then, it has languished for more than 15 months in the Senate due entirely to the "hold" put on the bill by Sen. Tom Coburn, R-Okla., which the Democratic Caucus's Senate Journal Web site characterized as "petty procedural maneuvers."
"I applaud those who have fought for years to get this bill passed, and I hate the fact that some people have blocked it for so long," said Mississippi Attorney General Jim Hood. "It would have really helped 10 years ago, five years ago, maybe."
Coburn, a self-proclaimed "citizen legislator," actually supports the idea of creating a new federal prosecutor for civil rights cold cases, but only if there are equivalent cuts in spending at the Department of Justice and the other agencies involved. Since his election to the Senate in 2004, Coburn has stalled dozens of pieces of legislation that did not pass his litmus tests for financial viability, including several bills aimed at curbing child pornography, and others to assist at-risk youth. His nearly fanatical dedication to a fiscally conservative hard line has earned him the moniker of "Dr. No" in the U.S. Senate chamber. Next to his desk, he has a large framed and matted "NO," to remind him of his single-minded mission.
In an open letter to his colleagues in the Senate dated Feb. 5, 2007, Coburn listed four of the points he considers when opposing legislation: duplicate programs that do not de-authorize the existing program; new spending that isn't offset by reductions; programs that receive funding from other sources; and establishment of certain non-governmental entities beyond start up costs and endowments.
"I may also object to legislation that I believe oversteps the limited role of the federal government enshrined in our Constitution by our Founders or that violates my own deepest person convictions," Coburn wrote, putting the Senate on notice that if things didn't go his way, they wouldn't go at all.
"[Y]ou cannot negotiate with Coburn," Senate Majority Leader Harry M. Reid told The Washington Post earlier this year. "It's just something that you learn over the years … is a waste of time."
In 2006, Coburn co-authored the landmark Federal Funding Accountability and Transparency Act with Sen. Thomas Carper, D-Del., and presidential hopefuls, Sens. Barack Obama, D-Ill., and John McCain, R-Ariz. Obama named Coburn as one of three people he would rely on for advice in the Aug. 16 Faith Forum at Saddleback Church in Lake Forest, Calif. hosted by Rick Warren, author of "The Purpose Driven Life."
The Emmett Till Act provides the FBI and Department of Justice an additional $10 million in general funding annually through 2017 for the express purpose of resolving civil rights era "cold" cases that occurred prior to Dec. 31, 1969. The attorney general will appoint a special deputy chief for the DOJ's Civil Rights Division, and a supervisory special agent for the FBI's equivalent division.
To aid state and local law enforcement, the act also appropriates $2 million in annual grants, and authorizes $1.5 million annually for a DOJ Community Relations Service to provide law enforcement with technical assistance.
Mississippi does not currently have any active civil-rights cold cases, Hood said. But there are cases that won't be prosecuted where the details should be made available: for example, where there isn't enough evidence, where the alleged perpetrators are dead, or the statute of limitations has expired. Hood will be applying for a grant to compile details on the known Mississippi cases to provide that information to the public and investigate whether there are additional actions his office can take.
"What I want to see us do is to have some finality to these cases. I think that's what this bill will give us," Hood said. "It may be a case that we can reconstruct (cases) that we're not aware of at this point, but we've pretty much run to ground those cases that we're aware of."
He could not comment on investigations currently being pursued by the DOJ.
"The public needs to know that the state and the federal government did everything we could," Hood added. "In the future, 50 years from now, people will be able to look at that list of people who died and know that, at least, someone looked at it with the assets and abilities to thoroughly review it … Let's get it answered for the victims. It's what they deserve."
Accused of whistling at a white woman, kidnappers abducted 14-year-old Till (for whom the act is named) Aug. 28, 1955, from his bed in his uncle's home in Money, Miss. Three days later, fishermen found his beaten, bloated body in the Tallahatchie River, a gin fan barb-wired to his neck to weigh him down, a gunshot in his head.
An all-white, all-male jury acquitted Till's killers—Roy Bryant, husband of the woman Till supposedly whistled at, and Bryant's half-brother J.W. Milam—Sept. 23, 1955. In a paid interview for Look magazine a few months later, the men admitted their guilt. They have both since died. The DOJ attempted to reopen the case in 2005; however, a Mississippi grand jury declined to issue an indictment.
The Emmett Till Act is headed to President Bush's desk for signature.
Previous Comments
ID

138617

Comment

Comments from Mississippi's Senators?

Author

footsy

Date

2008-10-04T08:26:31-06:00
More like this story
More stories by this author