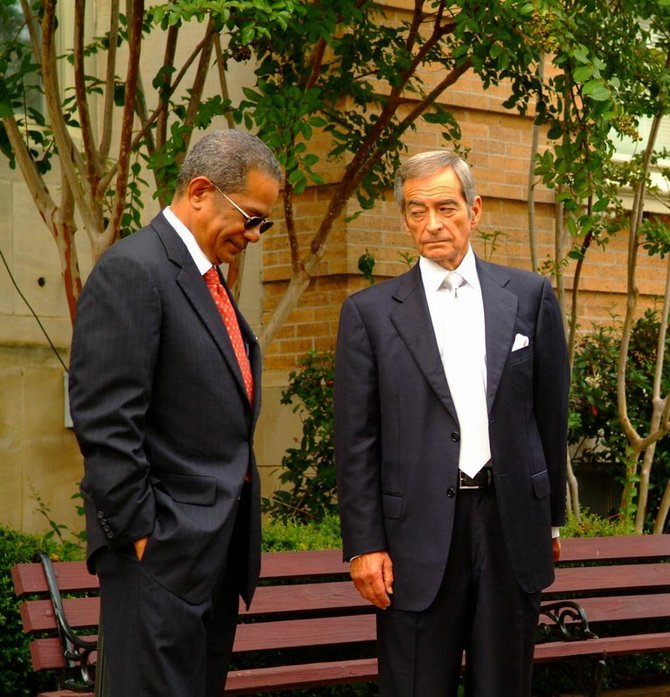 When Jackson Mayor Frank Melton's trial for civil-rights violations begins Nov. 12, one of the key battlegrounds will be the mayor's intent. Prosecutors must prove that Melton intentionally destroyed the duplex at 1350 Ridgeway Street, with the full knowledge that his actions were illegal. Defense attorneys will likely argue that Melton did not act intentionally or that circumstances at the house required that he act before securing a warrant.
In Melton's state trial, defense attorneys did not dispute Melton's alleged participation in the demolition of 1350 Ridgeway. Instead, they argued that Melton could only be guilty of felony malicious mischief if he had acted with "evil intent." Using an arcane, common-law definition of "malicious," the defense asked the jury to consider Melton's motives, rather than his intent, according to Mississippi College School of Law professor Matt Steffey.
"I thought the trial judge gave Melton great latitude in turning (the case) into whether he acted with some sort of 'malice' or malicious intent and not whether he just did the act intentionally," Steffey said.
Former Hinds County District Attorney Faye Peterson, who led the prosecution in Melton's state trial, said that the nature of Melton's charges allowed his defense to argue jury nullification. Defense attorneys essentially ceded the point that Melton participated in the demolition, but argued that he was motivated by a desire to protect the city.
"In the state case … a reasonable juror could perceive, 'Well, he had a good-faith reason for why he wanted to do that,'" Peterson said. "It's not actually a defense. It's just saying, 'Yeah I did it, but I'm going to convince these people to believe that it was for such a good cause that they should not vote me guilty.'"
Anticipating that Melton might resurrect his defense strategy from the state trial, federal prosecutors have filed motions to exclude any evidence of drug activity at the Ridgeway duplex. The possibility that people were using drugs there has no bearing on whether the mayor and his bodyguards intentionally demolished it without legal basis, the government argues.
In response, Melton maintains that such evidence is necessary to prove that he had a lawful basis for merely being at Ridgeway Street. He submitted five affidavits last month—mostly from young men he has mentored—to corroborate his claims that the duplex was a haven for drug dealers and users.
"That's really pushing the envelope because the criminal case does not turn on whether he showed up at the house with lawful authority," Steffey said of Melton's claim that he needs drug evidence to prove that he was at the Ridgeway house lawfully. "It turns on what he did once he got there. And unless he's going to say there were exigent circumstances, I don't see why it matters why he stopped by that house."
Peterson believes the mayor is trying to build just such an argument that he acted under "exigent circumstances."
Exigent circumstances would apply "if (Melton) had received some credible information … of some crime going on there, and there was not enough time to get a warrant—(that) there was a dangerous situation, and (he) had to act or there was going to be some illegal activity," Peterson said.
In response to Melton, government prosecutors pointed out that the mayor's presence at the duplex is not at issue. At issue is what the mayor did after he approached the house, and whether he did so intentionally. His intent amounts to whether he willfully "searched" the house without a warrant and thus knowingly violated tenant Evans "Bubba" Welch's civil rights.
To prove that Melton acted intentionally, prosecutors plan to introduce evidence from six previous incidents. On several occasions before the Ridgeway incident, prosecutors say, Melton ordered unlawful searches or seizures and was warned of their illegality.
In July 2005, Melton allegedly asked police officers to kick down the door of an occupied hotel room. Officers told him that they had no legal justification to do so. In March 2006, Melton and his former bodyguard Michael Recio had a car towed without probable cause, despite explicit warnings from police officers that he could be arrested. Recio later "caused a false report to be written to obscure this illegal act," prosecutors say. The government may also introduce evidence that, in August 2006, days before the Ridgeway incident, Melton ordered city employees to burn vacant houses on Congo and Campbell streets. Melton gave the orders, prosecutors allege, after he was told that state law forbade burning existing structures.
Steffey said such a litany of past offenses could prejudice the jury if not balanced by past evidence of the mayor's lawful behavior. Even if drug evidence has no bearing on Melton's intent, Judge Daniel Jordan may have reason to admit it.
"The jury's entitled to hear the defendant's theory of the case and a story that from beginning to end makes sense," Steffey said. "So I think the judge is going to have a hard time completely silencing the defense on why they were there to begin with."
"When Judge Jordan sits down and sorts through this, we're going to really know what this trial looks like and how exactly bad it is for the mayor," Steffey added. "Incidentally, if they bring in all those six other acts, this trial could take three weeks."
Additional reporting by Donna Ladd.
More like this story
More stories by this author