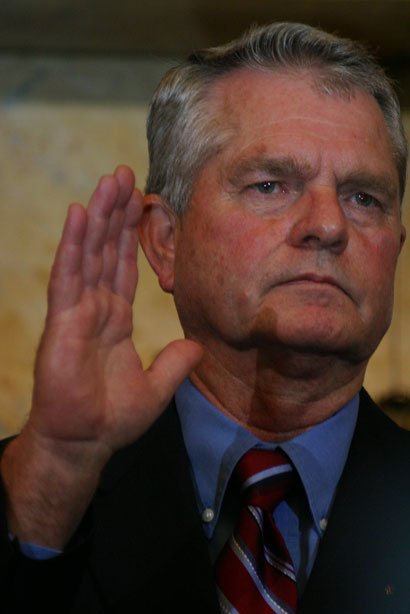 The Mississippi House and Senate moved forward last week in making the Airport Parkway a possibility. Both approved a bill that would increase the maximum term of contracts for companies looking to make the parkway connecting the city of Jackson and the Jackson-Evers International Airport in Rankin County a toll road.
Mississippi Department of Transportation Executive Director Larry "Butch" Brown told the Jackson City Council last December that the Mississippi Department of Transportation no longer needed federal money to complete the Airport Parkway, saying that international road-building companies—such as McQuarrie of Australia and Cintra Concesiones of Spain—were willing to fund the construction as a business venture by designing the parkway as a toll road.
"Every country in the world, except the U.S., builds their highways like this. We're just a Johnny-come-lately," Brown told the council.
Brown told The Clarion-Ledger last month that the toll would likely cost drivers about $1 each way and that ownership of the road would fall to the state after 50 years. Construction is set to begin in February 2010.
Congress earmarked about $35 million for the project. Last December, Brown reported that the Airport Parkway Commission has spent about $13 million on engineering and design services, and about $15 million on right-of-way acquisition in Rankin County, which amounted to about 40 percent of the acquisition necessary to continue the project. Brown did not return calls for an update last Friday.
MDOT will need to requisition more property to move forward with the project, which will begin at High Street. The project has been more than 16 years in planning, and MDOT projected its most recent plan would cost about $400 million.
The project has hit a fair number of snags. Jackson Developers said last year that the parkway would interfere with a more audacious plan to dredge and flood the section of the Pearl River between Lakeland Drive and Byram to create waterside real estate. One plan involved the possibility of two islands in the middle of the new lake; another, more scaled-down version of the same plan involved one island and a smaller lake zone. Developers have argued that the success of the plan depends on the island's distance from a noisy highway like the Airport Parkway. Jackson developers generally favor the lake plan, while Rankin County leaders largely support the parkway.
Jackson businessman John McGowan, of McGowan Working Partners, still says the parkway would clash with his islands plan, and doubted whether a private company would meet the return on its investment with up to five other roads, including I-20, Lakeland Drive and Highway 80, already connecting the airport with Jackson for free.
"(The developers) are looking at getting a 12.5 percent return on their money. That's $50 million a year. Divide that by 360 days and that's $140,000 a day in change that it's going to take just to meet their return on investment," McGowan said. "What we've been seeing (the commission and MDOT) do is spend lots of money on studies in the last 17 years and not too much else."
Other issues have plagued the parkway. The commission sued MDOT last year because of MDOT's decision to reopen an environmental impact study, which commission members said stalled land acquisitions. Tension between MDOT and the commission got so heated at one point that Brown lobbied the Jackson City Council last December to pull the city's representation from the commission, effectively dissolving it. MDOT opted not to reopen the study, and the commission dropped its suit in March.
Sal Costello, founder of Texas TollParty.com, which opposes a public/private venture to steer drivers to toll roads in central Texas, said he had no issue with toll roads in general, but warned that taxpayers should be leery of how much of their money is going into any enterprise that serves a nonpublic entity.
"How many tax dollars are in there to sweeten that deal for the private developers? Do you know? Because that's the question that should be concerning most taxpayers," Costello said. "Our officials keep coming back to us with higher property tax rates, more new taxes, higher license fees for roads. Everywhere you turn they have their hand out or their hand in your pocket. Then you get to pay a toll, anyway."
More like this story
More stories by this author
Like independent media outlets around the world, the Jackson Free Press works hard to produce important content on a limited budget. We'd love your help! Become a JFP VIP member today and/or donate to our journalism fund. Thanks for considering a JFP VIP membership or one-time support.