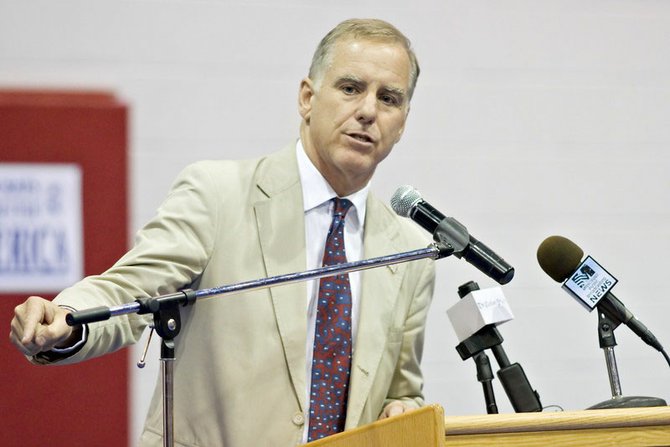 Barack Obama can win Mississippi for the Democratic Party. A laughable statement in political circles as recently as last year, this was the message Democratic National Committee Chairman Howard Dean delivered during a Friday, July 18, address at Tougaloo College with a seriousness and fervor reminiscent of his 2004 presidential campaign.
"The South has a changed a lot in the past 40 years," he told the crowd of nearly 200 at the Kroger Gymnasium. "What we want people to know is that not only has the South changed, but the Democratic Party has changed."
Dean, whose visit was part of a bus tour across the South, outlined a decentralized voter registration campaign calling for participants to knock on 25 of their neighbors' doors three times for the presumptive Democratic nominee, and then convince two people to do the same.
The campaign reflects the grassroots commitment to community organizing that has defined the Obama campaign throughout the past year and a half.
"It ain't going to happen unless you do it," he said, pointing at the crowd.
Dean's visit comes at a time of momentum for the Mississippi Democratic Party. After Gov. Haley Barbour appointed House representative Roger Wicker on Dec. 31 of last year to fill the Senate seat vacated by Trent Lott, social conservative Democrat Travis Childers won Wicker's First Congressional District in a special May election, a seat Wicker had held as a Republican for 14 years. Now, former Democratic Gov. Ronnie Musgrove is contesting Wicker in his campaign to keep his new Senate seat for a full term.
Dean joined many Democratic leaders and supporters by touting Childers' victory as proof that the state is ready to elect the first Democratic nominee for president since the nation's bicentennial.
Aaron Gardner, Mississippi field director for the Obama campaign, said he believes the Democratic Party will have the resources to win in Mississippi in November.
After Dean's speech, Gardner said the campaign had three full-time staffers on the payroll. By Monday, Gardner told the Jackson Free Press that he had hired a fourth, and he expects
"lots more" support in the months after the Jackson office opens on North State Street, though he would not give specific numbers.
Dean's bus tour is part of a wider initiative by the Obama campaign and the Democratic Party to contest presumptive Republican nominee John McCain in G.O.P. strongholds like Mississippi, which has not voted for a Democrat in the general election since Georgia native and then-Southern Baptist Jimmy Carter ran in 1976.
The overall drive is not exclusive to the South. Obama has made several campaign stops in traditionally Republican-supporting Western states like Montana and North Dakota. But Dean's Southern tour is unique in that Democratic chances rest on the mobilization of the significant black populace in the region. This support helped fuel double-digit primary victories for Obama in red states like Virginia, North Carolina, South Carolina, Alabama and Georgia. Obama won Mississippi by 24 percentage points.
Yet as Dean joined in the back-patting over Democratic advances in the state and elsewhere, he tempered his speech with the recognition that, at best, turning Mississippi blue in 2008 would be an "uphill climb, saying that the party had "no chance" of winning without the votes of 100,000 newly registered Mississippi voters.
"He was realistic, I think," said LaQuanda Fields, assistant to the president at Tougaloo College. "It was clear that they have a lot riding on the registration program."
Dean, who throughout his speech stressed what he said were similarities in Democratic and Southern values, including the Biblical notion of "Love thy neighbor as thyself," tried to localize the idea of the new Democratic strategy by comparing his political party to two of Mississippi's beloved perennial collegiate football losers in recent years.
"You know what happens when Mississippi State or Ole Miss takes the football field. They might win, and they might not. But I can tell you what happens when they don't show up on the football field. They are definitely going to lose. We are done not showing up at the state of Mississippi."
Previous Comments
ID

132649

Comment

Anyone saw the latest McCain or GOP commercial of Barack with the Britney Spears and Paris Hilton inclusion. The add supposedly poses Barack as a rock star or some flighty, messed up or unworthy celebrity without any real merit or worth. It's also slyly hooking him up with premium white girls. Now we all know how some people go off the deep end when a black man is kindly or unkindly connected in any way with white women. And we know how nutty and dumb the blue collar workers are who these kinds of add are calculated to reach. Hopefully, Britney and Paris will do the right thing and campaign for Barack thereby compelling their fans, if any remain, to vote for Barack and cause this trickery to backfire on the GOP. Since the commercial is likely approved by John McCain, one of the few decent republicans of this era, I doubt he meant it to induce racism or hatred along those lines. But I happen to know he's not the sharpest nice in the rack and can be used and tricked. And he's desperate to win. However, I aver the commercial wrongly spears Barack. Now, we know the repugnants (aka republicans) are low down individuals by how many have been run out of office for malfeasance, indicted, caught with their hands in the cookie jar, to be indicted, been caught in whorehouses and airport bathroom, committed infidelity and other dishonest acts while preaching family values, have stalked pages in Congress, et al, but what I want to know is when will it stop? When will the good and decent citizens of these United States of America declare the party totally corrupt and devoid of any good and stop voting for them? The republicans are the new Dixiecrats who must go, and they can't go far enough to suit my taste.

Author

Walt

Date

2008-07-31T08:11:59-06:00
ID

132651

Comment

I doubt McCain really knows who Paris Hilton or Britney Spears are. This guy admits he's just learning how to email! At least he didn't compare him to Marilyn Monroe or Jane Mansfield. So maybe he's not completely out of touch.

Author

Jeff Lucas

Date

2008-07-31T08:25:32-06:00
ID

132654

Comment

...Dean tempered his speech with the recognition that, at best, turning Mississippi in 2008 would be an "uphill climb." That's an understatement. But at least he was honest.

Author

Jeff Lucas

Date

2008-07-31T08:37:22-06:00
ID

132657

Comment

The Democrats have to win beyond or despite the south. The south is a lost cause. Always has been and always will be. "So shall it is and so shall it be." Those who think otherwise makes me chuckle.

Author

Walt

Date

2008-07-31T08:48:34-06:00
ID

132701

Comment

The Washington Post is reporting that the McCain camp is accusing Barack Obama of playing the race card from under the deck. After the commercial this morning which "foxly-news-like" joined Obama with Britney and Paris the repugs still have the nerve to claim Barack is playing the race card. What Obama did was say his critics are saying he's not patriotic enough, he has a funny name, and he doesn't look like all the other presidents on the money, et al. Now, I have to admit the last part of the comment was quite good and no doubt surprised the repubs. They don't like to be outfoxed. Clearly many Barack haters and McCain supporters are saying these things even if not openly and publicly.

Author

Walt

Date

2008-07-31T15:48:38-06:00
ID

132708

Comment

The Britney Spears/Paris Hilton comparisons, the race card comments and criticisms of Obama speaking in Germany is a sign of desperation from the McCain. And this is from a candidate who said he would run a clean campaign. Flip-flopper.

Author

golden eagle

Date

2008-07-31T20:09:22-06:00
ID

132712

Comment

McCain's got nothing else worthy of discussion.

Author

Jeff Lucas

Date

2008-07-31T20:43:49-06:00
ID

132713

Comment

And this is from a candidate who said he would run a clean campaign. Flip-flopper. Yeah, but you never really believed he would, did you?

Author

Jeff Lucas

Date

2008-07-31T20:55:29-06:00
ID

132716

Comment

"McCain's got nothing else worthy of discussion." Actually I take that back. There's plenty of issues that he COULD be talking about. But instead he's become too focused at countering Obama's "rockstar" image.

Author

Jeff Lucas

Date

2008-07-31T21:25:39-06:00
ID

132792

Comment

There is an interesting article on MSN front page that asks How Will The South Vote in Novemeber. Southern Discomfort, A Journey Through a Troubled Region. I wish someone smart like LW would attach it for reading or start a column on the question. Me is too dumb to attach it.

Author

Walt

Date

2008-08-04T12:54:28-06:00
More like this story
More stories by this author