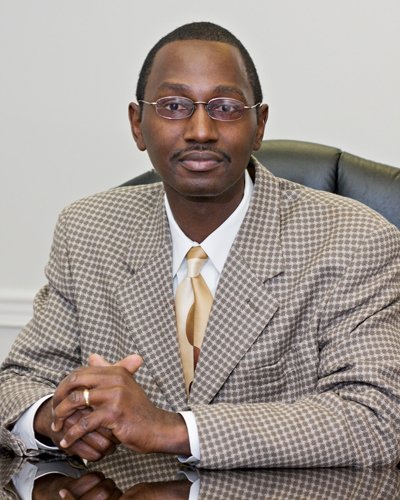 Sanford Knott doesn't sound like a typical Jacksonian. A childhood hearing problem kept him from speaking clearly until he was in junior high school. After trying to compensate for his garbled voice by over-enunciating, Knott now speaks with barely a trace of the typical southern accent.
But Knott, 44, is a native Jacksonian, a graduate of Callaway High School and Tougaloo College. A lawyer by trade, he employs his passion for working with young people as the youth director at Central Community Church of God.
After graduating from law school at the University of Alabama, Knott joined a firm in Greenville as an associate. The Delta was an eye-opening experience for him. As a young, successful man in an area where male role-models were absent, he attracted a lot of attention, especially from the children in his apartment complex.
"When they first met me, they thought I was going to church every day," Knott says of going to work in a suit. "I showed them the briefcase. They didn't quite understand that picture."
Despite not understanding, the neighborhood children took to him, ambushing his car when he came home at night and trying to peek in his windows. Seizing the opportunity, Knott invited them in for Bible study. Soon, he was riding bikes and playing games with them, even feeding some who were going hungry at home.
After three years in the Delta, Knott returned to Jackson to work for the Hinds County Public Defender's office. A year and a half was enough for him to feel familiar with criminal law, and on June 1, 1994, he went into private practice. His firm, Knott & Associates, specializes in education and criminal defense.
Knott's calm, cerebral appearance as a lawyer belies an excitable streak that comes out about soccer. Three of his four young children play in the Southwest Jackson Soccer League. Knott's fervent sideline cheering earned him a spot coaching an under-5 team this year and an appointment last summer as the new league president.
"You should see me on the sidelines," Knott says. "(I) never played soccer, but I love it now. My kids love it. They cry when practices are cancelled. We are officially a soccer family."
During those rare quiet moments, when he and his wife Trina have settled their children in bed, Knott often plans one of the four legal thrillers he hopes to write. If an idea strikes him, he will share it with his wife, but he usually doesn't take the time to write it down.
"I'll probably just record it," Knott says. "That way I can continue to freestyle.
More like this story
More stories by this author