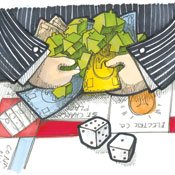 Mississippi attorney general Jim Hood filed a lawsuit against Entergy Mississippi Inc. last Tuesday, accusing the company of "dishonest practices worthy of ENRON." Hood had previously filed suit against the energy provider in Hinds County Chancery Court in August to force it to surrender company information about a Louisiana investigation that found Entergy liable to ratepayers for $72 million. Hood abandoned the earlier suit to hit Entergy with this new suit alleging incidents of deceptive trade practices, antitrust behavior, accounting manipulation and unlawful enrichment, among other charges.
"We already have the documents, and we know the evidence is there, so we feel very comfortable filing this suit," Hood told reporters at a Dec. 2 press conference.
Hood's newest suit, filed in response to Entergy's refusal to comply with the earlier suit on Dec. 1, alleges Entergy bought more expensive energy from Entergy affiliates, instead of from cheaper, independent sources, as demanded by the company's regulatory compact with the state of Mississippi. Hood also says the company fraudulently claimed to the Mississippi Public Service Committee that it was purchasing the cheapest power while engaged in the discriminatory behavior.
Hood said the company had essentially "transformed Mississippi into a dumping ground for high-cost electricity" by getting power from antiquated company-owned power generators, and passing the unnecessarily expensive costs to state consumers instead of buying cheaper third-party electricity from sources using modernized generators.
According to company documents, Entergy Services Inc. (the parent company of Entergy Mississippi) regularly buys cheap electricity from Entergy non-affiliates, but Hood believes the company then sells that electricity to other non-affiliates at an unregulated profit, rather than providing the power to Mississippi customers.
The suit further argues that Entergy "fraudulently represented to the Mississippi Public Service Commission that the amount and price of its expensive power generated by antiquated plants resulted in the most reasonable cost of electricity being provided to Entergy Mississippi's customers."
Entergy Services Inc. Manager Robert Cooper testified before the commission this summer that the projected fuel costs for power purchased during the third quarter of 2008 were "reasonable estimates of the costs needed for EMI to continue … to provide reasonably adequate electricity service to its customers at the lowest reasonable rate." Hood finds the latter portion of Cooper's statement to be particularly contentious considering the fact that cheaper fuel sources were available, yet the company declined to purchase them.
Hood also asserts that Entergy has used its captive customers' money to finance the financially burdensome operation of nuclear plants in the Northeast. An Entergy division utterly unregulated by Mississippi watchdogs began buying up northeastern nuclear power plants in 2000.
Nuclear power is expensive, however, and largely unprofitable in the northeast region without a little extra support. According to SEC filings, Entergy provided some extra support in 2007 when it spun-off its nuclear division into a separate company, called Enexus Energy Corporation. A May 12, 2008, SEC filing revealed that the nuclear power division got $1.2 billion in loans and a $1.9 billion obligation guarantee from "associated companies," which includes Entergy Mississippi.
"Entergy Mississippi has placed its assets, revenue stream and creditworthiness at great risk by making these large loans and guaranties in favor of its parent's unregulated nuclear generating business," Hood's suit claims.
According to Hood, the company also diverted $71 million in federal tax refunds related to the Gulf Opportunity Zone Act of 2005. The company received a $344 income tax refund through the act as a means to reimburse money the company invested to rebuild entire power grids inside Katrina's most hard-hit targets. The company only used $273 million of the tax refund on its affiliates, however, including Entergy Mississippi. The rest, a total of $71 million (about 21 percent of the refund), went to the northeastern nuclear facilities, according to Entergy's "inter-company tax allocation agreement" filed with the SEC in 2008. Katrina did no damage to the northeast nuclear facilities, Hood said.
Entergy has not addressed Hood's accusations, but instead questions their source. It is a tactic the company has used since the attorney general first took up the PSC's fight.
Hood first demanded information regarding Entergy's behavior in August, in response to a PSC hearing on a 30-percent rate increase that Entergy Mississippi was attempting to clear with the commission.
Entergy issued a Sept. 19 response stating that they "had no objection to making reasonable production of documents … so long as that production was made in the course of proceedings before the commission, acting within the commission's jurisdiction and subject to the rules, regulation, customs and usage of the commission."
Hood wasted no time, firing back that very afternoon with his counter response, A "Petition to Enforce Subpoena," in Hinds County Chancery Court.
More like this story
More stories by this author