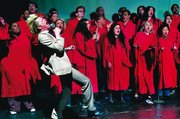 Reverend Billy and the Church of Stop Shopping are coming to town for the Crossroads Film Festival, bringing with them a message against rampant consumerism. Billy, also known as William Talen, 47, is joining his wife Savitri D and Jackson native Derrick McGinty in preaching against what he mirthlessly calls the "Shopocalypse," the slow death of the planet through humanity's incessant desire to buy more stuff.
The film, "What Would Jesus Buy?" speaks specifically to the sad death of the spirit of Christmas at the hands of corporate America, though the message of what this death symbolizes for the rest of the planet is fairly obvious to Billy, who spoke to the Jackson Free Press by phone.
All right. I got the gist of the movie. How long have you felt this way?
It all became really obvious to me sometime after Ronald Reagan came into power, the Reagan/Clinton/Bush era. It wasn't like a lightning bolt knocked me off the back of the horse. In Times Square, in the 1990s, I looked around and all the interesting little shops were getting boarded up really fast. They wanted to turn Times Square into a supermall, and I think they've succeeded. It's not a place that New Yorkers go to anymore. It's become a tourist destination. We think of it as a cultural dead-zone. There's no reason to go there.
How does this attitude lead to the movie "What Would Jesus Buy"?
The movie is more about how Christmas has been buried by consumerism. The destruction of neighborhood economies by big-box chain stores—some people call that the theft of the commons—but you can apply that to Christmas, too. The holiday is a kind of commons. It's an event we all share, but it's been privatized.
So you were 37 when you came to your realization. Is that the average age of such a revelation you think?
No, I think lots of really young folks coming of age now in their 20s are becoming aware that they've been bombarded by (marketing) companies that specialize in the assault on children as young as 5. There are companies in New York that specialize in grabbing children who aren't even in school, yet. This generation that we see going to Obama rallies have been advertised to like that since they were kids. They might be the first generation that's been chased all the way from birth by advertising.
Hey, there wouldn't have been Saturday morning cartoons without breakfast cereal advertising, you know.
I think there would have been better Saturday morning cartoons without breakfast cereal advertising. I disagree with your statement completely. I would look to Europe for the leadership that they have there. Kids shouldn't have commercialization at such a young age. That's a statement the movie makes in a very big way. Christmas shouldn't be commercialized like it is right now.
Look at the debt that people incur because of corporations' work on Christmas. The debt... is paid off later and later each spring. There are still people paying off Christmas right now. The average family spends four months paying off the debt they got from Christmas, but now Christmas is coming forward in time, toward the end of summer. It's creeping forward more every year.
The Church of Stop Shopping has also touched on the role of the cars in tearing down the planet. Tell me why.
The automobile was a wonderful thing for a while, but the gas and oil lobbies are helping to choke us on our own fumes here. They're literally killing us, killing our whole planet.
Should suburbanites be irritated at what you're saying? Cars make suburbanism possible, you know.
I want suburbanites to hear me shout, "Automobiles are the devil." But I'm not really the big preacher here. The big preacher is the Earth, which is telling us in no uncertain terms, with all the wind and the rain and the droughts and the fires, that we can't keep doing this. It's not a time for gradualism. It's a time for American radicalism, of the type that founded this country, of the type that abolished slavery. Americans can't be gradual now. They've got to stand up and figure something out besides the car because the Earth is saying it can't continue.
Won't the problem with cars kind of solve itself when gas creeps up to $7 a gallon?
It hasn't so far. Gas has gotten incredibly expensive, but it hasn't stopped us. What we've got to have is caring government again. Government, since Ronald Reagan, has been called bad. The military side of government, for some reason, is the hero while the nurturing side of government has been personified as the bumbling bureaucrats. That has got to stop. We've got to ennoble government. It's got to be a good thing again, because corporations need something to balance them. Corporations were never meant to have this much power. It's not good for them, either. They're driving themselves into the ground. I live a couple of miles from Wall Street, and those guys are going to be jumping out of windows in a second. They've stopped being caring citizens, and just followed the markets and whatever gets them more money. That only works as long as democracy is balancing out businesses. Corporations just can't have the world. They'll f*ck it up.
That sounds like an endorsement of regulation.
Regulation has done good things. Regulation can be cited for the emergence of the middle class after World War II, when the government stepped in and helped people go to college and have a life of dignity.
See "What Would Jesus Buy," on Friday, April 4. 7 p.m. at Parkway Place Theater, Flowood.
Barefoot In The Delta
Cinematastic!: Crossroads Film Festival 2008
What Would Jesus Buy?
We Call it Irresistible
Previous Comments
ID

85032

Comment

Look at the debt that people incur because of corporations' work on Christmas. The debt... is paid off later and later each spring. There are still people paying off Christmas right now. The average family spends four months paying off the debt they got from Christmas, but now Christmas is coming forward in time, toward the end of summer. It's creeping forward more every year. Years ago, I used credit one time to buy Christmas presents, and that was my last time. If I can't buy gifts with cash, I don't buy gifts. They know I love 'em. Corporations just can't have the world. They'll f*ck it up. Ahem. Well, he is human. I hope he said a quick prayer for that, though. Of course, how much does a slip of the tongue compare to the evils of commercialism? His faux pas is a lot easier to correct.

Author

LatashaWillis

Date

2008-04-04T09:09:05-06:00
More like this story
More stories by this author