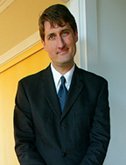 Jeff Good, 41, came to Jackson from Salt Lake City his senior year in high school, graduated from Murrah in 1981 and Millsaps in 1986, then sold computer systems for the old National Cash Register company. In the early '90s, frustrated after the company changed hands, Good was on the phone with his best friend from high school, then a chef in San Francisco. They decided to go into business together.
A two-year business plan and lots of hard work later, he and chef Dan Blumenthal gave Jacksonians the gift of Bravo! in Highland Village, a new way to dine out in Jackson—then backed it up with Broad Street, an artisan bakery in Banner Hall.
Good spoke candidly about his beliefs about Jackson. Certain that not enough voices are talking about love for one another or expressing a desire to help others, Good said, "I love my community and I want to help it; I don't want anything from it." Not only are those feelings a natural extension of his career choice—"I serve people all day"—they have to do with his having been what he calls the victim of soft prejudice—a Methodist among Mormons and then the new guy at Murrah. "I'm a product of my past. … I understand being treated differently based on what I am, not who I am. Jeff Good starts from empathy in all things," he explained.
For Good, leadership means having a good idea, selling it and then fulfilling the promises inherent in the idea. To that end, Good has stayed involved in Jackson. That's why Bravo! and Broad Street are where they are. And he's kept his family—wife-of-18-years Debbie and twin 8-year-old daughters—inside the city limits. That's why he supported the convention center and that's one reason why he's just become co-chairman for the Finance Committee of Frank Melton's campaign for mayor.
Asked what he thinks needs to be done so that his daughters will want to either stay in Jackson as adults or come back after college, Good replied, "We need to create a civil, safe environment that in turn will allow mass retail to return."
Good holds several tenets dear: set a standard you want to achieve; empower those who will be working toward it, ask them what they need and hold them accountable once they've got the tools. Oh, and he'll be right there, cheering them on.
"I'm thrilled to be this community's cheerleader. If they will have my help, I'm glad to give it," he said.
More like this story
More stories by this author