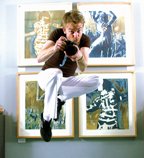 When Josh Hailey, 24, shows me around his Fondren Corner studio, he is literally dancing. Be-bopping to the tune of his own infectious excitement, Hailey is more than an artist. He is a photographer-turned-carpenter, a ceramicist-turned-caterer. As he bounces from piece to piece, explaining the work he put into each one, there is one thing Hailey definitely is – passion incarnate.
Known as "Joosy" to his friends, Hailey began working as an artist in 1999. Then a college freshman majoring in architecture at Mississippi State, Hailey found a darkroom that no one was using. After teaching himself how to develop photographs from a book he borrowed at the library, Hailey decided to change his major.
"I changed from a financially stable major to art, which is so up in the air," he says. "But I was happy."
Eventually picking up a ceramics major and a Spanish major, Hailey graduated in 2003, but stayed in Starkville to work with his ceramics professor building a wood kiln from the ground up. After that project was completed, he worked as an assistant gallery director for six months, putting on shows for the university and students.
Now, he's ready to dance into the hearts of Jacksonians. He has shot everything from sushi to weddings, but his two most obvious current focuses are ceramics and an interesting conglomeration of photography and paint.
The studio he holds now is very close to his heart. He turned the 300 square-foot room into a studio space and a dark room, building walls and track lighting himself, with help from friends. He took out a loan to install plumbing in the darkroom.
Standing in the finished product, he clearly has a sense of satisfaction. He worked furiously to get where he is, but work is nothing foreign to Hailey. In fact, each work of art is something he labors intensely over. Most of his photographs take over 40 hours to produce, he told me. A "typical" Hailey work might involve finding a model, painting on top of her skin then photographing her. He then uses cyanotype and vandyke printing, each of which take an average of 10 hours to do for only one layer, to produce a new look of photography.
Noting that these processes were used in the original printing of newspapers, Hailey explains that the cyanotype and vandyke styles represent his main interest—a merging between the classical and modern. Since these processes require Hailey to actually paint the chemicals on to watercolor paper when printing the shoots, he feels it allows him to be even more of an artist. "Using those old-school techniques in a contemporary way let's me do photography in a painterly way," he says with a grin.
Though he considers himself primarily a photographer, Hailey is clearly a painter, as well. But his canvas is a little different than what many people are used to. He uses the photography models as canvases themselves to restructure the idea of beauty.
"It's an application," he explains. "They're in really classical, statuesque poses, but it's a retake on classical beauty. It's experimental beauty."
Though he says the paint "is like a layer of clothing," I ask him if people were offended by the naked women who sometimes appear in his work.
"You would think most people in Mississippi would be offended, but I haven't had one person complain," he responds. "I have seen their eyes open."
Hailey adds that his models have also become more open. The most reluctant have become less self-conscious, he says.
After he finishes a piece, Hailey mattes and frames each piece himself. He builds the frames out of poplar and oak wood. Since putting so much energy into each piece can be trying, Hailey has found a side art in ceramics.
He says of ceramics, "It's a passion that comes out when I'm mad at photography because photography is so expensive and so hard to do."
As experimental and new as his photography is, Hailey's ceramics are every bit as innovative. Using the same fusion of classic and modern art, Hailey's most popular pieces are the baby heads. Using a baby head mold local artist William Goodman gave him, Hailey casts the pieces then chisels them into figures that look like lost artifacts.
People sometimes treat them like they are artifacts, too. Hailey explains that his customers have used them as everything from garden decorations to house gods with the power to ward away evil spirits. The varied responses he gets from these pieces are one of Hailey's favorite parts of creating, so he really enjoys meeting people at his openings.
Hailey puts his whole self into his openings, as well. During his time as assistant gallery director, he learned the art of throwing a great reception, including how to make great reception food.
Hailey will be hosting monthly shows, beginning this Thursday, 5 – 9 p.m. He is preparing half the food for the reception, with Rooster's providing the other half. Beer and wine will also be available. Hailey's work is curently on the first and third floor of the Fondren Corner building. You can also view his art during Arts, Beats & Beats April 14.
Previous Comments
ID

78079

Comment

If you haven't stopped by the Fodren Building to see Hailey's stuff...it's well worth the effort. The photographic and ceramics are exeptional

Author

Sonny Day

Date

2005-04-19T13:52:28-06:00
More like this story
More stories by this author
Like independent media outlets around the world, the Jackson Free Press works hard to produce important content on a limited budget. We'd love your help! Become a JFP VIP member today and/or donate to our journalism fund. Thanks for considering a JFP VIP membership or one-time support.