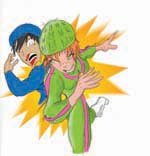 At first smile, Michele Coffield Walker, 21, is a charming girl. Even her tight-curled blonde locks exude sweetness. But when she gets to the derby, outfitted in old-style rollerskates, she's going to be ready to kick ass.
After reading in Spin magazine about other roller derby girls in Texas and North Carolina, Walker realized that there were no equivalents in Mississippi.
"Usually everything here is for boys," she says. "There's nothing in Jackson that is just for girls."
Wanting to make something just for girls, Walker began the Mississippi Roller Dolls League a few months ago. Now, she has 18 girls committed to begin competing within eight months. Since most teams are comprised of five girls with three alternates, Walker's girls (aged 18-34) are spread out over two teams: St. Agnes' Virgins and the Trailer Tramps. Boys are allowed to attend practice, but they can only be on the team as cheerleaders.
"I want to have more girlfriends," says team member Vida Herzig, 25. "It's fun to get a bunch of girls together and not get wasted."
There are rules a-plenty for roller derby, but the basic concept centers around two teams, dressed in costumes to match their names. There are three positions: pivot, blocker and jammer. The pivot sets the pace for the pack by skating at the front. Three blockers follow her and try to prevent the other team's jammer from lapping them. The jammer is the fastest member of the team and sprints through the pack, scoring points by passing members of the other team.
The catch is that while all of this skating competition is happening, there's also a lot of fighting going on. The ass-kicking doesn't come until later, though. For now, they're practicing in local skating rinks. "Most of the girls haven't roller-skated in a long time, so we're all just re-learning how to do that first," Walker says.
They may not all know how to skate, but their competitive spirit is already intact. During practice, St. Agnes' team leader Jen Barker spots a group of young kids. She shouts out, "I have to go race those kids!"
Walker isn't as competitive as the other girls. She studies logistics of the sport and swears the fighting will be choreographed. "And everyone will have on a lot of pads—butt pads, knee pads, everything," she adds. "We're gonna look like football players in skirts."
Other girls on the team are prepared to give and take a few bruises (and even broken bones, if necessary). "I saw one girl on the Austin team's Web site who had a busted nose and black eye, but she was smiling real big," notes Trailer Trash team leader Amanda Magerity. "I wanna be like that."
"Other people have bruises all the time," adds 24-year-old Lindsay Burton. "This way we'll have cool stories for our bruises, and at least we'll have something to show for it."
The teams meet every Sunday for team practice, but individuals are expected to practice on their own at least three times a week. During team practice, the girls do drills to increase speed, strength and skill.
Amelia Shaw, 22, sees practice as a fun version of exercise. "I really need to get in shape, but exercise is so boring," she says. "Skating is really fun, and it doesn't feel like you're exercising at all, even though you're getting in shape."
More like this story
More stories by this author
Like independent media outlets around the world, the Jackson Free Press works hard to produce important content on a limited budget. We'd love your help! Become a JFP VIP member today and/or donate to our journalism fund. Thanks for considering a JFP VIP membership or one-time support.