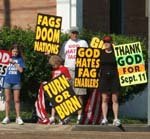 George County Justice Court Judge Connie Wilkerson kicked over a fire ant mound when he wrote in a letter to the George County Times, published March 28, that "in my opinion, gays and lesbians should be put in some type of mental institution instead of having a law like this passed for them." He was writing the letter in response to a recent California law that gave gay partners the same rights to file wrongful death suits as spouses or other family members have. The letter prompted statewide gay rights group Equality Mississippi and Lambda Legal, a nationwide gay rights organization, to file an ethics violation complaint against Wilkerson, arguing that the letter is evidence that the judge cannot be impartial.
Wilkerson, 65, a six-year justice court judge, later told the press that he was sorry his comments about gay people had stirred up so much controversy, but maintained that his views did not affect his performance on the bench. He also added that he was only "trying to help," and said gay people should look for help with their "disease" in the Bible.
Regardless, the State Supreme Court, in a 5-2 decision, decided not to hold Wilkerson accountable for his opinion. The matter wasn't entirely over, however. On Aug. 13, the Mississippi Commission on Judicial Performance was considering a discussion on whether or not to take the Mississippi Supreme Court decision up to the U.S. Supreme Court. The consideration didn't get far, according to commission Executive Director Brant Brantley, who said later that the commission was not pursuing the case any further.
Nevertheless, the mere suggestion of the possibility to continue any reprimand was enough to trigger a reaction by Fred Phelps and family. Phelps, born 1929 in Meridian, is pastor of Westboro Baptist Church of Topeka, Kan., a church filled mostly with his family members that has taken up a passionate cause against homosexuality.
The members—under the catchy moniker, God Hates Fags—first targeted a park in Topeka where gays hung out, they said, and later protested outside the Casper, Wyo., funeral of 21-year-old Matthew Shepard, who was beaten, lashed to a fence and left to die outside the town of Laramie, Wyo., in 1998 for being gay.
The church has an anti-gay Web site at http://www.godhatesfags.com, where lies a virtual memorial to Shepard. (Shepard has been in Hell 2,142 days as of Aug.22, according to information on the Web site. You can click on the little burning icon of Shepard to hear him screaming from Hell that Fred Phelps should be listened to.)
Both the church and the traveling protest activities are organized by Phelps' large family, most of whom are attorneys in Topeka. His daughter Shirley Phelps-Roper is spokeswoman.
"There is a God, there is a day of judgment and it's not OK to be gay, and the thing that's going to take those judges in that Supreme Court to Hell is the fact that they're even having this discussion in the first place. They should've summarily disposed of the matter by saying, 'This is ridiculous,'" said Phelps-Roper, who traveled with her husband and family from Topeka to picket outside the Mississippi Supreme Court building Aug. 13.
"This generation has given over wholesale to this sodomite agenda and it signals that the last days are upon us."
Jenni Smith of Jackson, who was standing with others across the street, hoisting their own signs in opposition to the Phelpses, said the family "preach[es] hate to all types of groups." She added: "We are a group of people who are against hate. We don't want hate mongering in our state." The Phelpses come from a very extreme viewpoint. They want attention and to start anger and riots."
When the Phelps group was done with their downtown demonstration, they packed up and shipped off to Jackson Synagogue Beth-Israel to continue their protest, because the Jews "will brag that there are more Jewish homosexuals than any other," Phelps-Roper said. "The preachers are responsible for the condition of things by setting the moral tone, and the Jews have given completely over to this."
Fred Phelps was an attorney in Kansas until he was disbarred in 1979 by the Kansas Supreme Court, because he had "little regard for the ethics of his profession." The complaint filed against him said he had misrepresented the truth in a case he argued, and that he had held the defendant in the case up to "unnecessary public ridicule for which there is no basis in fact."
The group also maintains the site, godhatesamerica.com, on which it argues that Ronald Reagan went to hell for not doing more to stop homosexuality. The group, the sites says, also picketed Reagan's funeral.
Previous Comments
ID

64275

Comment

I attended the Phelps protests downtown. I had to witness this foolishness first-hand. Seeing signs like "God Hates Fags" and "America deserved 9-11" were enough to literally cause me to shake in anger. The most disturbing part about the whole scene was their children (both probably under 12) holding signs that read "God Hates America" and standing on an American flag. Their mom used another flag to wipe her nose and then spit on it as it dropped to the sidewalk. Now, I'm all about free speech but this was simply troubling. They might be passive protesters but I see that they actually want to incite anger. They want people to respond aggressively and I'd wage they hope the aggressive actions are taken by "their side". By the by, these people are obviously not TOO proud of their beliefs. We saw them walking through downtown without their signs and hate shirts browsing the Old Capitol Museum and a few other tourist spots. As a friend noted they are so fringe they cannot recruit new adults to their cause... They have to breed their hate because no one will subscribe to such rage in the name of the Bible. And on a side note, I have to state there were few gays at the counter-protest. It consisted of more heterosexuals angry at their message about America and our current president. This struck me as curious since the only gay people that showed up were a small handful of non-activists not associated with any local organizations. The whole time, everyone kept asking "Where's the other gays?" and "Why don't they care that this is in their back yard?"

Author

kaust

Date

2004-08-26T07:05:06-06:00
ID

64276

Comment

I've always wondered where the line "Love thy Neighbor as thine self" when in his bible. I can't imagine the surprise in store for him when it's all over...

Author

Ironghost

Date

2004-08-26T20:50:17-06:00
ID

64277

Comment

I'm a libertarian buddhist/taoist and believe in "live and let live," and try not to pass any judgement on anyone else for any belief. So I believe in compassion and understanding and trying to connect with all of humanity.... but seeing those signs is just, over the line. Is this the freakin American Inquisition or what ? If you think people other than you are going to hell, let them do it in freakin peace. Will organized Christianity ever not (loudly) condemn whoever they percieve as non-Christians ? "Ronald Reagan went to hell for not doing more to stop homosexuality" , "Thank God for Sept. 11." Having children holding such viciously hateful signs and teaching them such thoughts is not what Jesus would do. Wow.

Author

herman

Date

2004-08-27T07:27:23-06:00
ID

64278

Comment

Many talk about how homosexuals should not have children and many Christians have gone so far as to say it is child abuse.... I'm curious how many of those same individuals would view these parents? I do know the family has been investigated for physical abuse in the past based on reports from two of the oldest children that managed to escape this distorted cult. The charges did not stick. I assume it's hard to challenge a family/cult where nearly ALL members have an educational background in law. Those kids will never easily be able to adapt to the world outside their compound because of the hate their own parents and grand-parents have instilled since birth. I'm so sickened that this man and his offspring do this to those innocent minds and lock them in a world filled with hatred for their country and their neighbors. They can hate as much as they want but to breed it literally and figuratively is repulsive.

Author

kaust

Date

2004-08-27T07:59:32-06:00
ID

64279

Comment

The sins of the father.....

Author

herman

Date

2004-08-27T08:10:29-06:00
ID

64280

Comment

I'm reminded of the Dropkick Murphys' song "The Torch", which includes the lyrics "Turn back the hands of the clock/ You're a bitter old man who's done nothing but hate" and "But you pass it along/ And that's something much worse/ For a bitter old man/ To be passing the torch".

Author

corrosiongone

Date

2004-08-27T11:18:34-06:00
ID

64281

Comment

Seems like George County, MS isn't the only place with outspoken haters. The following blog was sent to me from a friend in Hammond, LA, about a Clear Channel stunt in Chapel Hill, NC. The followup posts are quite funny- the mocking from the locals over this event is encouraging. http://orangepolitics.org/2004/08/het-pride-parade/ I think I agree with the poster who suggested ridiing bicycles throughout the marchers, tossing Brie and empty French wine bottles.

Author

corrosiongone

Date

2004-08-27T11:31:11-06:00
ID

64282

Comment

From what I've ever seen, most pastor's just ignore Phelps and his brood. Mainline Christian Pastor's believe homosexuality is a sin, but in their viewpoint a sin is something everyone can over come. Phelps, however, has gone overboard with his spreading of hate. That's as evil as you can imagine. I'd say your typical Pastor would simply ignore Phelps. Phelps does this to get attention to his "message", and a good dose of obscurity is what he needs.

Author

Ironghost

Date

2004-08-27T12:31:33-06:00
ID

64283

Comment

Ironically, Ironghost, most of Phelps' demonstrations unify the communities they hit. The gay and straight community usually join easily and counter-protest in a postive fashion and form new alliances that might never have been formed. It's good for those two communities to see they have something in common -- postivity and love. Obviously, this is just one manner Phelps' stunts backfire... Unfortunately, that hardly happened here. The local gay community is apathetic and closeted and from my perspective cares little about what's going on around them... That was a generalization but a fair one based on experience. As a gay man, I must say its sad that in a city the size of Jackson there are few reactive or activist gays and lesbians willing to stand against stunts like this... Further, in my experience, I know more heterosexuals willing to fight for gay rights than gay individuals... This was evident when there were moms and straight females outnumbering the gays and lesbians at the local counter-protest and in situations like gay adoption in the past. Pardon the off-topic rant.

Author

kaust

Date

2004-08-27T12:40:24-06:00
ID

64284

Comment

It's kind of like the KKK demonstrations these days: they leave more unification in their wake than hate. I recall they marched in Canton and the only people who showed up were reporters taping the lack of response. I guess it says something nice about us if acts like this tend to unify rather than spread hate.

Author

Ironghost

Date

2004-08-27T14:11:27-06:00
ID

64285

Comment

This may be a generalization, but we don't get alot of influx of gays and lesbians that move here from other places. Generally they move away. It is that hometown connection to ones family, from parents to great aunt Ester and your 4th cousins, that perhaps keeps much of the local gay commmunity to be public in any way. By moving away they gain the anonymity that lets them express who they are and what they believe in. Even if an gay individual has had the big talk with mom & dad, often those parents are scared that the rest of the family will ever find out. It's just not easy to overcome those things. My point is standing up for ones rights when you are hundreds of miles away from any family connections, or having very few family connections is different from someone with many Aunts, Uncles, and Cousins all in the same media outlet. It would also be nice to one day think that many area employers would not be prejudiced by the sexual preference of their workers.

Author

herman

Date

2004-08-27T14:13:49-06:00
ID

64286

Comment

Knol - I dont think that the others gays necessarily needed to be there. I mean, what would they have changed if they had been there? I feel inundated enough with hate without showing up to the capitol to watch some wack jobs holding signs. Regardless, this here gay was workin' at the free press was all going on.

Author

casey

Date

2004-08-28T21:27:17-06:00
ID

64287

Comment

Speaking of this nutcase, check out this link to read about the origins of Westboro Baptist Church -- IF you have the STOMACH for it!!!. "Addicted to Hate", by Jon Micahel Bell, was originally submitted as an affidavit to the Shawnee County District Court in Topeka, Kansas. (go to the link http://blank.org/addict/ ). WARNING: The document is full of EXTREMELY disturbing information, and should not be read by highly sensitive people!!!!!! As you can see from this document, gays aren't the only people he abused. This bastard also ABUSED HIS OWN FAMILY, for God's sake (no pun intended)!!!! If there was ANYONE I've heard about who ought to be thrown in jail or in a mental institution on mere general principles -- PHELPS IS IT!!

Author

Philip

Date

2004-08-28T21:57:03-06:00
ID

64288

Comment

"I dont think that the others gays necessarily needed to be there. I mean, what would they have changed if they had been there?" - Casey Your question is a can of worms. Why protest the RNC/DNC? Why protest for/against gay rights? Why protest for/against the war? Why protest at all? Why have rallies like the upcoming Convention Center rally? The obvious answer is to show your support or counter the attack... To show others that are afraid or undecided that they are not alone in their thoughts and in this world. In the gay community, this is dreadfully needed. GLBT kids and adults are killing themselves at dangerously higher numbers than their straight counterparts -- mostly due to self-hatred bred and/or fueled by messages such as Phelps and his clan of hate (among others). Let's not forget that the Phelps' were here, as outsiders, attacking local organizations that have shown support for the gay community. They came to our state to protest the actions of Equality Mississippi, Lambda Legal, Beth-Israel, and the gay community in general. I guess the simple answer to your question is -- to show support for these organizations while denouncing the hate message of the Phelps' in one swift motion. A counterprotest to Phelpsí antigay gang is more than simply opposing an isolated case of religious fanaticism. Phelpsí rally can give confidence to gay bashers and bigots who attend the rally, inciting them to dole out violence even after Phelps leaves. Your question actually reeks of the apathy I mentioned... Not to say you are apathetic (I know you are not!). But, I do know that very type of question has been asked by many gays and lesbians in the past and present. Why stand up and risk a quiet, safe closet when it's easier to be quiet and go about my regular, daily routine? The once quiet gays and lesbians at Stonewall answered that for us when they took back Christopher Street through riots and attacks on the very groups seeking their oppression. Action evokes change -- a simple equation most minorities and individuals have successfully used to take back their communities and lives. As the button that conveniently appeared in my car states "Silence = Death". I was reminded of it as I stared at these hateful people and remembered why it was important that I and others stand for ourselves and against those that literally hate us. I honestly hope your question was rhetorical. Philip, I have read Phelps' history (including the links posted). He's a colorful man with a diverse past not quite what one would expect. It seems the challenge is to determine what really set-off his hate or need to express hate. He did not grow up as a fanatic nor were his early years spent that way. His family even has a great record of fighting for civil rights, ironically. His hate seems to be a bit of an enigma to most that have known him or interviewed him. Even the children that escaped are perplexed by the unexplained cause.

Author

kaust

Date

2004-08-29T08:28:00-06:00
More like this story
More stories by this author
Like independent media outlets around the world, the Jackson Free Press works hard to produce important content on a limited budget. We'd love your help! Become a JFP VIP member today and/or donate to our journalism fund. Thanks for considering a JFP VIP membership or one-time support.